Marie Maddox: Women for ATSU Spotlight
Posted: August 3, 2017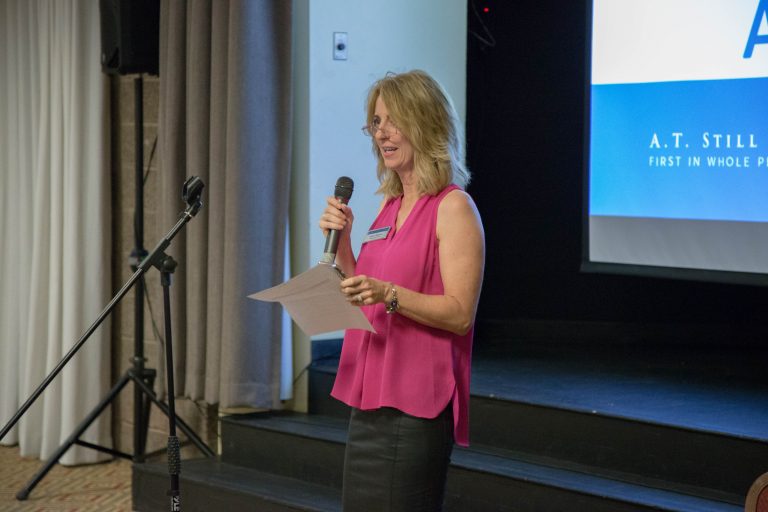 A.T. Still University (ATSU) has a champion in Marie Maddox, ThD, RT, CHT. Dr. Maddox has a long family history at the University. Both her husband and father-in-law are graduates of ATSU's Kirksville College of Osteopathic Medicine (ATSU-KCOM). Dr. Maddox studied theology in graduate school, and developed an interest in near-death experiences and wellness. Her studies led her to appreciate the osteopathic focus on promoting whole person health, rather than simply treating the symptoms of disease.
Dr. Maddox moved to the Phoenix area with her family more than twenty years ago. Because of her family's deep roots at ATSU-KCOM, she was eager to continue her involvement with the University. Women for ATSU, a philanthropic organization that supports ATSU's programs and students, presented the perfect opportunity to give back to the University and impact community healthcare. Initially, she joined as a member. After a few years, she was invited to serve as chair.
Each year, Women for ATSU awards three $1,000 scholarships to ATSU students. The organization also provides annual funding opportunities for innovative programs and community projects at the University.
In the most recent grant cycle, Women for ATSU funded six University projects, including Day for Special Smiles. At this event, students from ATSU's Arizona School of Dentistry & Oral Health provide free dental care for children with special needs.
"It's fun to see how grant recipients use the money, not just for the students, but for the community," says Dr. Maddox. "These programs really help underserved populations."
In addition to financial support, Women for ATSU strengthens University programs by promoting a culture of interprofessional collaboration. As part of the funding process, grant applicants are required to present their projects at a dinner hosted by Women for ATSU. The experience brings together students and faculty from a variety of disciplines.
"I love seeing the colleges discover each other," Dr. Maddox says. "It introduces people to resources that they may not have known existed, and creates opportunities for collaboration that otherwise would not have been possible."
Although her two-year tenure as chair recently ended, Dr. Maddox will remain an active member of Women for ATSU and an ardent supporter of the University.
"We want to make an impact, not only at ATSU, but in the community," she says. "That's what the work is all about."