March ATSU-KCOM, ATSU-MSODOH student ambassador spotlight
Posted: March 18, 2021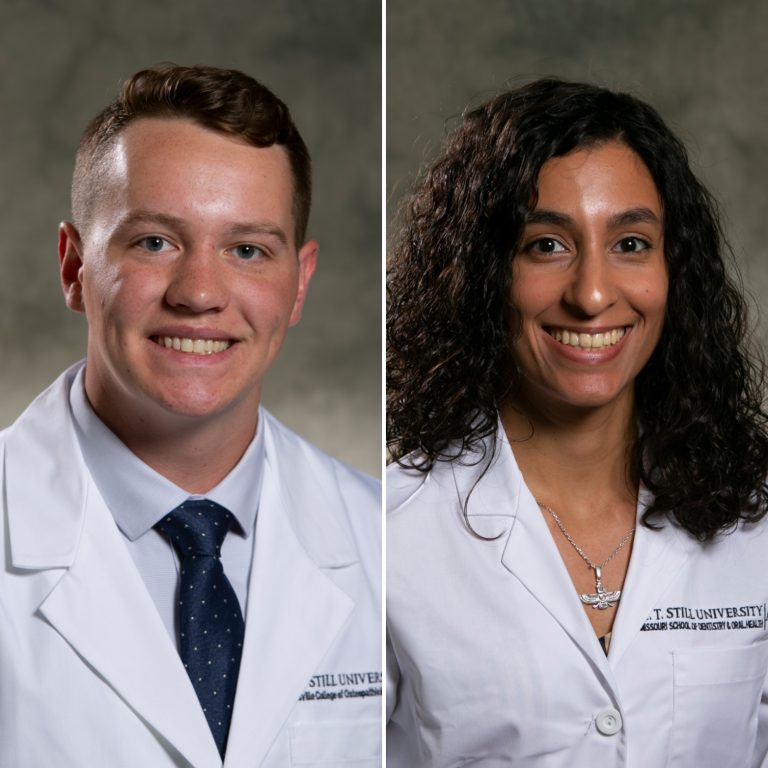 Each month, A.T. Still University's (ATSU) Admissions Office in Kirksville, Missouri, will select student ambassadors to recognize and showcase. Student ambassadors are second-year students who speak and meet with prospective ATSU-Kirksville College of Osteopathic Medicine (ATSU-KCOM) and ATSU-Missouri School of Dentistry & Oral Health (ATSU-MOSDOH) students.
ATSU-KCOM Student Ambassador Spotlight: Colin Smith
Colin Smith, OMS II, completed a bachelor's degree in biology at Hannibal-LaGrange University. Smith is originally from Wright City, Missouri. He enjoys exercising with the ATSU Osteoblasters Club, intramurals, cooking, grilling, and baking, and he plays the drums at his local church. Smith is an active member of many clubs, including Family Medicine Club, and Christian Medical and Dental Association. He is president of the Still Undecided Club, vice president of the Physical Medicine and Rehabilitation Club, and secretary and treasurer of the Dermatology Club. Smith is also the Navy representative for the Student Association of Military Osteopathic Physicians and Surgeons. His professional goals are to become an empathetic and successful physician in the U.S. Navy.
Smith explained he decided to participate in the ATSU Student Ambassador program to pay it forward to those who helped him achieve his goal of attending medical school.
"Their insight into Kirksville, ATSU, faculty, and life as a student made the decision to attend ATSU-KCOM much easier," Smith said. "My favorite part of being a student ambassador is having the opportunity to encourage and help guide individuals, who are only a coupled steps behind me, toward success."
Congratulations, Colin Smith, for being our ATSU-KCOM Student Ambassador spotlight!
ATSU-MOSDOH Student Ambassador Spotlight: Manijeh Felfeli
Manijeh Felfeli, D2, is from Kansas City, Missouri, and completed her bachelor's degree in chemistry from the University of Missouri – Kansas City. She enjoys reading, crafting, and listening to K-Pop. Felfeli currently serves as vice president of the Student National Dental Association.
Felfeli is keeping her future options open.
"I do not know if I want to specialize yet, but as long as I am able to help someone through my work, I will be happy," she said. "ATSU provides me and my classmates with so many opportunities to do just that."
Felfeli decided to participate in ATSU's Student Ambassador program because she wanted to help students through what can be a difficult part of their lives.
"I remember the stress from applying to programs, so if I am able to help relieve that stress from even one person, then I will feel happy," she said.
Congratulations, Manijeh Felfeli, for being our ATSU-MOSDOH Student Ambassador spotlight!