Making a world of difference
Posted: November 11, 2013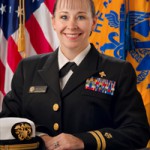 Dr. Weagle
Life for Sheila Weagle, DHEd, '11, MPH, '09, RDH, CHES, has been a whirlwind of work, education, and family. In just a few short years, Dr. Weagle transferred from the U.S. Air Force to the U.S. Public Health Service, started a family (she and husband Andrew have two young children), and earned two degrees from ATSU—an MPH with a dental emphasis and a doctorate in health education.
After more than a year working in Oklahoma as a clinical dental hygienist for the Indian Health Service, Dr. Weagle got a job with the Centers for Disease and Control and Prevention in Atlanta, Ga. Because of her strong professional background, she was able to get a position with the CDC in the Division of Oral Health while completing her master's.
After receiving her doctorate, Dr. Weagle transferred to her current position with the CDC as a public health analyst in the Division for Heart Disease and Stroke Prevention in the Chronic Center where she's involved with projects that can literally help millions—like Million Hearts®, for example. In her day-to-day duties, Dr. Weagle is proud to be part of this national initiative to prevent one million heart attacks and strokes by 2017 by bringing together communities, health systems, nonprofit organizations, federal agencies, and private-sector partners from across the country.
"I feel so complete at the end of the day knowing that I am helping states build their infrastructure and capacity to improve population health. I am so fortunate to be with the CDC and see how we're changing lives every day," says Dr. Weagle. "Working at the CDC was a dream that came true."
Although her projects are exciting, Dr. Weagle says her roles and responsibilities at the CDC aren't like what you see in the movies, with disease outbreaks and people in strange suits looking at viruses. Instead, she spends her time gathering data that can help link the long-term health effects of chronic illnesses to life-saving prevention efforts. Her role with the CDC is complex and includes everything from working to establish hypertension and stroke guidelines to providing cooperative agreement guidance to state health departments.
Whatever she's doing, she says always asks the question: "What can I do to change this for the better?" and in doing so, is making a world of difference in the lives of millions.