Made at ATSU
Posted: September 23, 2020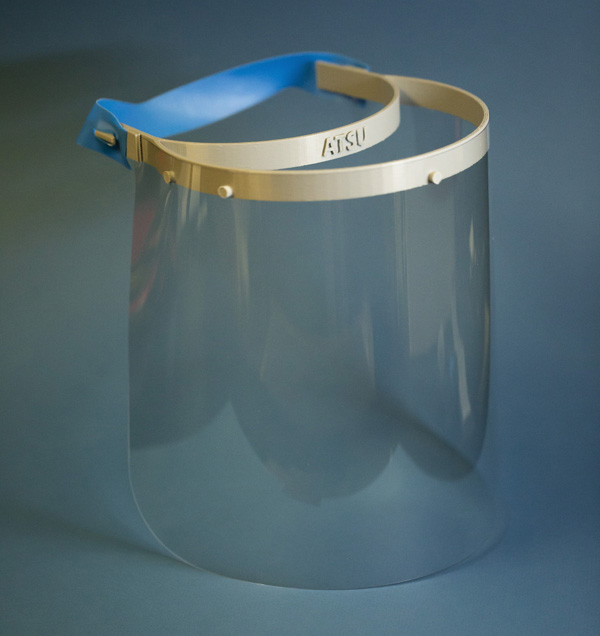 ATSU's 3D-printed face shield
3D printing addresses PPE shortages
As the COVID-19 pandemic's full scope came into focus in mid-March and news began to spread of nationwide personal protective equipment (PPE) shortages, ATSU sprang into action.
Using technology, resources, and community partnerships, the University drove an effort that, as of late June, had created more than 1,000 face shields and 400 N95-style masks for use by hospitals, healthcare providers, first responders, nursing homes, faculty, staff, and students.
ATSU-KCOM Dean Margaret Wilson, DO, '82, asked A.T. Still Memorial Library's Debra Loguda-Summers, public services and 3D print services manager, if the University's 3D printers could be used to help address PPE shortages in Kirksville, Missouri. According to Loguda-Summers, a face shield prototype was ready by the end of the week.
"I think it's amazing. I'm really proud of it," Loguda- Summers said. "As a library, you don't necessarily think about being able to step up and do something like that during a pandemic."
3D printing is a time-consuming pursuit. Individual projects take hours to complete, a timeframe that grows with complexity and size of each design. Then there are additional needs, such as loading materials into the printers, and cleaning and exchanging parts. The end product, too, is far from finished, often needing to be broken from excess material and cleaned.
A.T. Still Memorial Library has three printers, so to address the PPE problem in any meaningful way, the University looked outside. Loguda-Summers had worked previously with Rich Chapman, a teacher at the Kirksville Area Technical Center. Chapman and a student, high school senior Caleb Flaim, were eager to assist with the public school's printers, and along with Jamie Carroll, senior graphic artist, using printers in Academic Technologies, they formed a team.
Early printing materials were donated by Stratasys/DEPCO and Affinia Healthcare, while the University and Student Government Association purchased additional necessities. Local Kirksville company S&S Printing also provided complementary support.
Carroll's recent experiences with 3D printers helped him solve some problems, too. He's previously been tasked with creating custom anatomical designs for faculty members, as well as other parts for Facilities. When dental students and faculty found the face shields and masks didn't always allow enough room for other equipment they needed to wear, Carroll customized the designs to meet those needs.
"All of that helped prepare me for being able to do a custom project like this, and not just learning how to do it, but having the skills to be able to do it in a timely fashion," he said.
As of late June, the nationwide PPE shortage began to subside. ATSU's local team is still printing, however, supplementing purchases and providing customized pieces. They are proud of the part they've played in supporting front-line healthcare workers and ATSU's needs.
"There is a sense of pride in working at ATSU and working toward a goal, helping incoming students, working toward a bigger mission," Carroll said.
Loguda-Summers shares that sentiment.
"The president had the initiative many years ago to start the 3D printing program, and we've expanded it over the last few years," she said. "I'm really proud we were able to do this."