Keep choosing joy
Posted: July 11, 2018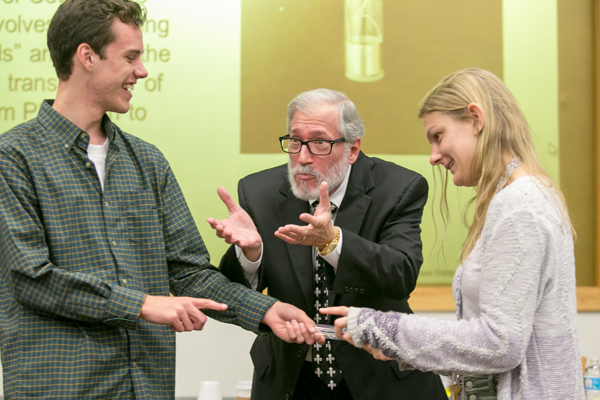 Dr. Goldman performs a magic trick with students during Founder's Day 2016.
Stacie Segebart, PT, '00, DPT, '05, loves helping people. Helping people is the reason she chose a career in healthcare. For 18 years, she has helped her patients, passed along knowledge, and fixed some broken smiles.
After a time in her practice, she began to question her career path. She needed direction and wanted answers that no one seemed to have. Her inner struggle consumed her thoughts, and her joy for helping people began to fade.
"I kept thinking, 'What is going on with me?'" recalls Dr. Segebart. "I felt shameful."
Dr. Segebart eventually realized she was struggling with burnout.
Dr. Segebart's situation is not unique. Burnout is a common problem for healthcare providers from all disciplines. It is defined as exhaustion of physical or emotional strength or motivation, usually because of prolonged stress or frustration.
Many providers will experience burnout at some point in their careers. The good news is those who experience burnout will likely overcome it. However, if left unrecognized or untreated, burnout can lead to mental health issues including depression and suicide, as well as negative patient outcomes. As the discussion surrounding burnout and its consequences becomes more popular, ATSU alumni and faculty speak with Still Magazine about the importance of self-care, overcoming burnout, and maintaining professional joy.
The struggle is real
The phrase, "You cannot give what you do not have," is heard regularly around ATSU. It seems natural that healthcare providers, who commit their professional lives to caring for others, should care for themselves first. All too often, however, providers have difficulty maintaining proper self-care. When self-care takes a back seat, the doors open for burnout to set in.
David Goldman, DO, JD, '91, is an associate professor in ATSU-KCOM's Neurobehavioral Sciences department and is medical director at Mark Twain Behavioral Health in Hannibal, Missouri. A frequent lecturer on mental health, he says many factors may contribute to burnout, and the causes vary for each person. Causes may include too many bureaucratic tasks, too many hours at work, increased computerization, loss of autonomy, too many appointments in a day, lack of professional fulfillment, inability to keep up with research, compassion fatigue, vicarious trauma, etc.
Burnout doesn't stop with providers. It's also a problem for students, interns, and residents. According to a University of Pennsylvania study, rates of intern burnout soared from 4.3 percent to 55.3 percent over the course of their first year of training. Causes of burnout in young professionals may include too many commitments, pressure to perform well, adjusting to new environments, financial burdens, and lack of mentoring, among others.
Dr. Goldman notes the Maslach Burnout Inventory (MBI) is a tool commonly used to assess an individual's risk of burnout. Developed by social psychologists Christina Maslach and Susan Jackson, MBI measures three dimensions of burnout: emotional exhaustion, cynicism, and inefficacy or inefficiency.
These three dimensions outline symptoms for healthcare professionals to watch for and recognize if they occur. Emotional exhaustion includes feeling drained after the workday, being unable to recharge even after time off, and decreasing energy levels. Cynicism describes feelings of detachment from patients and loathing their problems. Inefficacy or inefficiency refers to providers questioning their quality of care and doubting the importance of their work.
While conversations about burnout reach national levels, individuals are still reluctant to talk about their issues or seek mental health services. According to the same University of Pennsylvania study, reasons for avoidance include lack of time, lack of confidentiality, a desire to manage their mental health independently, and professional stigma.
"Threat of judgment from other providers serves as one of the largest roadblocks to seeking psychiatric care," Dr. Goldman says. "And yet, no one would ever want a colleague to suffer."
A dose of self-care
"Asking for help shows strength, rather than weakness." – Dr. Brian Vesci
While many providers have experienced burnout, many have also recovered from it. Just as the causes of burnout are unique to each person, so are the strategies for building resiliency and keeping the joy intact.
"Professional joy is the satisfaction and fulfillment we receive from those we serve, those we lead, and the accomplishments we achieve through the work we choose to do," says Brian Vesci, DAT, ATC, '17.
Dr. Vesci is a senior athletic trainer and traumatic brain injury specialist at Northwestern University. He has maintained joy by changing his environment or changing his expectations. When he struggled with burnout in the past, he discovered a lack of excitement and satisfaction in his work. He then identified aspects of his work he did not enjoy and found opportunities for change.
"I have always embraced proactivity and change," he says. "At various points in my career, those changes included moving to a new city, changing jobs, or changing roles within a particular job."
Paul Frizelle, PT, DPT, MS, OCS, MTC, CSCS, '09, is an adjunct professor of kinesiology at ATSU-CGHS and is an outpatient physical therapy clinic director. He has become more mindful of his time, and he considers the full effect of taking on an additional task before agreeing to it.
"Early in my career, I found myself taking on too many things," Dr. Frizelle says. "I lost the enjoyment of what I was doing and began to lose time for what was important to me as a person."
Faith Polkey, MD, MPH, FAAP, is ATSU-SOMA's regional director of medical education at Beaufort-Jasper-Hampton Comprehensive Health Services Inc. in South Carolina. At times, she questioned her work and wondered if she wanted to continue on her career path. Her approach to keeping the joy is to remain open to new possibilities and to seize opportunities to do something new or different.
"I always keep the bigger picture in mind of why I'm here on this earth," Dr. Polkey says. "That connects me and keeps me grounded."
As for Dr. Segebart, she turned to life coaching as a way to get back on track. She is now a life coach for others in addition to being a physical therapist. Her joy comes from helping patients as well as other professionals. She even created her own burnout workshop to help fellow physical therapists.
"Physical therapists sometimes need physical therapists," Dr. Segebart says. "Doctors sometimes need doctors."
Drs. Vesci, Frizelle, Polkey, and Segebart each make time to take breaks from work and recharge. Like many people from the ATSU community, they choose to spend quality time with family and friends and stay active through exercise. They also have some unique interests. Dr. Polkey works on art projects with her daughter. Dr. Segebart is a competitive shotgun shooter – and is a world champion. Dr. Goldman, too, has a unique pastime. He has been a magician for 57 years and incorporates magic tricks into his lectures and his patient visits.
"I wrote a paper on Harry Houdini magic in fourth grade, and I was hooked," Dr. Goldman says. "My goal is for my students and patients to enjoy it."
Have the conversation
Mental health issues are plaguing providers across the healthcare spectrum, and the causes of overwhelming stress and frustration suggest the healthcare system is the primary culprit for increased levels of burnout. According to Dr. Goldman, the best way to enact healthy behavior changes in patients is to initiate a dialogue. If that's the case, conversations taking place across the country may indicate changes to the healthcare system are coming.
"The younger generation is asking for something different," Dr. Polkey says. "They want to practice and serve, but they also want to have a family life."
Dr. Polkey has worked with ATSU students since 2008 and has been a mentor to those who have struggled. She credits ATSU-SOMA's education model for allowing her to give individualized attention to those students.
"I have seen students who struggled and wouldn't have become doctors," Dr. Polkey says. "Those students needed to be doctors."
ATSU takes several proactive measures to help students avoid burnout and other issues. Mental health wellness counselors are available on the Arizona and Missouri campuses, and their services are confidential and free of charge. The Still-Well Student Wellness Program was created in the early 1990s to encourage students' health and wellness throughout their education and into practice. Each year, the program offers activities and events encompassing different areas of wellness.
"If students are able to build skills and resilience to handle causes of burnout, they will be able to use those skills later in their careers," says mental health wellness counselor Sarah Thomas, MSW, LCSW, who also offers a mindfulness-based stress reduction course.
Dr. Frizelle says expanding academic curricula to teach self-care and stress management for all health disciplines is one possible solution. Dr. Vesci believes another solution may be effective mentoring. He says young professionals need guidance through times of transition.
"Lack of direction during those times can lead to an imbalance between expectations and reality," Dr. Vesci says. "It may lead to hasty decision-making."
Making well-thought-out career decisions is critical. With so much changing in healthcare, Dr. Goldman says it is most important for professionals to choose the area of practice that brings the most joy.
"When you do what you enjoy, you do it well," Dr. Goldman says.
"I have seen students who struggled and wouldn't have become doctors." – Dr. Faith Polkey on importance of mentorship
Choose health, choose joy
For those experiencing burnout, it is important to know they are not alone. Resources are available, and action should be taken quickly.
"Burnout is professional depression," Dr. Goldman says. "Each of us has a responsibility to ourselves and to each other."
For residential students, mental health wellness counselors are readily available. The counselors are also able to provide national resources and referral information for online students and faculty and staff members.
"Reaching out to ask for help is a good thing," says Dr. Vesci. "It actually shows strength, rather than weakness."
Providers who choose to keep joy in their work are less likely to experience burnout. Those who ignore their burnout or delay seeking care may be putting themselves and their patients at risk. If positive patient outcomes are the ultimate professional goal, then patients should receive care from healthcare professionals who enjoy what they do.
"We need to keep our professions healthy," Dr. Segebart says. "How are we going to provide health if we aren't healthy?"
"Each of us has a responsibility to ourselves and to each other." – Dr. David Goldman