KCOM students reflect on spirituality in medicine through art, music
Posted: February 8, 2013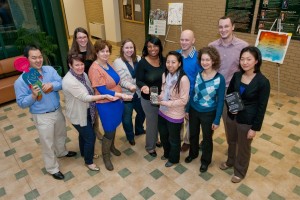 A.T. Still University's Kirksville College of Osteopathic Medicine students in the Spirituality in Medicine elective course had a chance to share their final projects in an open house format on Thursday, Feb. 7, 2013.
The Capstone Exhibit, set up in the Steinbaum-Levine Gallery, showcased posters, art pieces, and musical representations of spirituality.
Students were prompted to create their projects as an interpretation of what spirituality in medicine means to them. It was also an opportunity to reflect on the importance of spirituality in osteopathic healing.