KCOM and SOMA alumni reception held at AOMA convention
Posted: April 29, 2014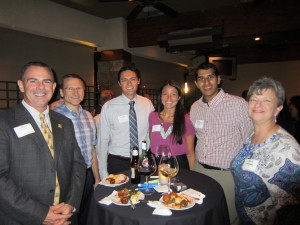 Alumni, students, faculty, and friends connected during the Arizona Osteopathic Medical Association's (AOMA) spring convention on April 10 and heard updates from Craig Phelps, DO, '84, FAOASM, president of ATSU, and Kay Kalousek, DO, MS, AAHIVS, FACOFP, dean of SOMA. Here is a recap of their updates:
ATSU School of Osteopathic Medicine in Arizona (ATSU-SOMA) innovative educational model continues to prove successful, with 100% of the class of 2014 matched and 70% going into primary care. If you have not been to the Mesa campus in a while, we welcome you to come take a tour and see the positive changes occurring on campus.
Mandy Weaver, executive director of AOMA, will be retiring next month. She was presented with an honorary Doctorate of Humane Letters – the first from ATSU-SOMA – for nearly two decades of service to the AOMA. Many thanks to her for all of her dedication to the osteopathic profession.
Dr. Phelps completed his term as president of the AOMA this year, but Dr. Adam Nally – another ATSU Kirksville College of Medicine graduate (ATSU-KCOM) – will be taking his place. Congratulations and thanks to them both for their leadership.
It is with sadness that we share that Dr. Mitch Kasovac passed away recently. Not only did he contribute much to osteopathic medicine as AOMA President, but he served as a teacher, mentor, and friend to many at ATSU-KCOM and ATSU-SOMA over the years and will be missed.
Additional photos can be found on the alumni Facebook page.