KCOM alumnus recognized
Posted: June 12, 2013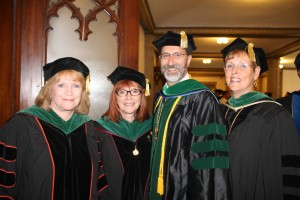 From L to R: Dixie Tooke-Rawlins, DO, Jan Willcox, DO, Martin Levine, DO, and Barbara Walker, DO, VCOM's AOA Board of Trustees and VCOM's AOA representative.
Martin Levine, DO, KCOM '80, was recently awarded an honorary doctorate for his contributions to the profession and at the Boston Marathon by Edward Via College of Osteopathic Medicine (VCOM) during their commencement ceremony.
Along with Dr. Martin at the VCOM graduation were KCOM alumni Dixie Tooke-Rawlins, KCOM '80, VCOM executive vice president and dean, and Jan Willcox, DO, KCOM '78, vice dean, Virginia campus.