KCOM alum receives Physician of the Year award
Posted: April 29, 2015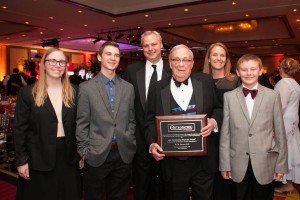 The Osteopathic Founders Foundation of Tulsa, Oklahoma, presented its 2015 Outstanding Physician award to Wilbert W. Stoever, DO, '61. This award is given to recognize and honor the recipient's service to patients, community, the osteopathic profession, and the education of young osteopathic physicians in the Tulsa community.
He completed his post-graduate studies at Southern Illinois University and entered A.T. Still University's Kirksville College of Osteopathic Medicine in 1957. Upon completion of medical school, he moved to Tulsa with his family to complete his internship at Oklahoma Osteopathic Hospital and entered General Practice in Pryor, Okla. Following residency, he moved to Albuquerque, N.M., where he practiced internal medicine for four years and developed an interest in cardiology. In 1971, he returned to Tulsa and established the Non-invasive Cardiology and Cardiac Rehabilitation Program at the hospital and was director for more than a decade. Dr. Stoever continues to be active in his cardiology practice, Heart Care of Tulsa.
Throughout his career, he has been an avid teacher of students and residents and has held the academic appointment of clinical professor of medicine at Oklahoma State University College of Osteopathic Medicine since 1975. He has co-authored and published multiple articles in peer-reviewed journals. His accomplishments include fellowships in American College of Cardiology, American Society of Hypertension, and American Society of Cardiac Angiography and Intervention. He has the distinction of master fellow in the American College of Osteopathic Internists.