Dr. Jeffrey Morgan named new dean of ATSU's School of Osteopathic Medicine in Arizona
Posted: January 11, 2016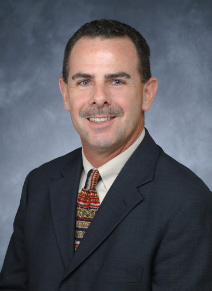 Jeffrey Morgan, DO, MA, FACOI, CS, has been selected to lead A.T. Still University's School of Osteopathic Medicine in Arizona (ATSU-SOMA), effective Jan. 1, 2016. He succeeds Kay Kalousek, DO, who served as the School's dean since 2012. "Dr. Morgan is an excellent choice to lead one of our nation's most innovative medical schools," said ATSU President Craig Phelps, DO, '84. "His commitment to educating tomorrow's quality healthcare leaders is unwavering." Dr. Morgan joined ATSU-SOMA's faculty in 2013 as associate professor of internal medicine and public health as well as chair of clinical science education, chair of the Student Performance Committee, and acting director of the Clinical Education department.
Dr. Morgan received his undergraduate degree from Wayne State University in 1988, doctor of osteopathic medicine degree from Michigan State University's College of Osteopathic Medicine in 1992, and master's degree in bioethics from Midwestern University in 2008. In addition, he completed the Osteopathic Heritage Health Policy Fellowship program in 2002; and in 2015, he completed an academic program with Costin Institute for Osteopathic Medical Educators, which is specifically designed for osteopathic medical personnel involved in teaching and academic management as well as those aspiring to a career in medical academe.
Dr. Morgan has also served as past president of the Arizona Osteopathic Medical Association (AOMA) and currently serves as speaker of the House of Delegates for the same association. In 2013, he was honored as AOMA Physician of the Year. Prior to joining ATSU-SOMA, Dr. Morgan was a primary care physician in Arizona during which time he held and continues to hold active leadership roles in national, state, and local professional and community service organizations.
"I am humbled and honored to have been selected for this distinguished position," said Dr. Morgan. "I look forward to carrying forward the mission of ATSU-SOMA as well as the University alongside a dedicated team who makes it their priority to address the unmet healthcare needs of our nation's underserved. My goals as dean include furthering our engagement with ATSU's community health center partners to reach an even greater number of those in need; bring awareness and expansion to the University's Hometown Scholars program, which encourages medical school applicants who come from underserved areas; and increase the number of primary care physicians to serve in those underserved communities."