January ATSU-KCOM and ATSU-MOSDOH ambassador spotlight
Posted: January 22, 2021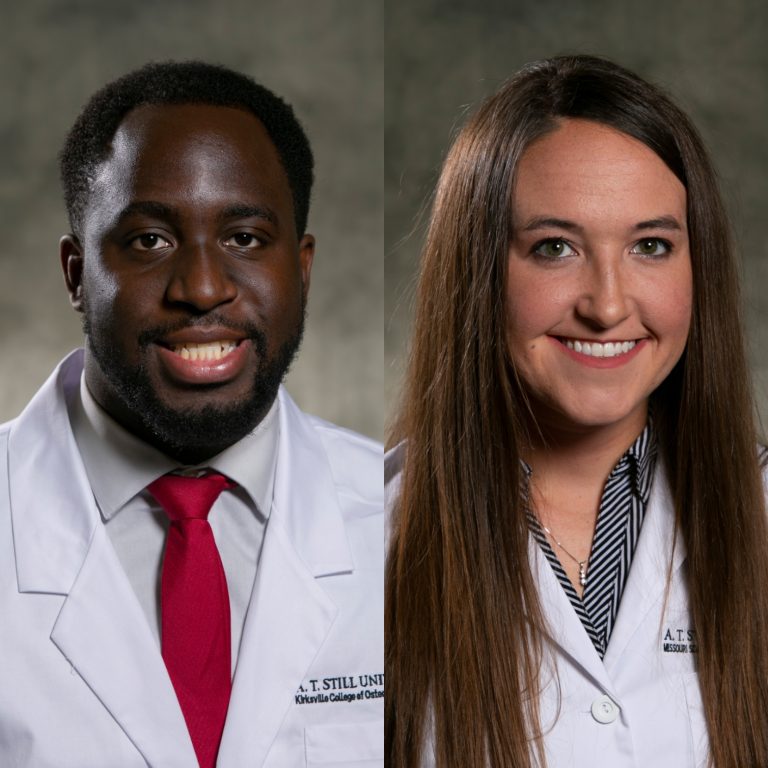 Each month, A.T. Still University's (ATSU) Admissions Office in Kirksville, Missouri, will select student ambassadors to recognize and showcase. Student ambassadors are second-year students who speak and meet with prospective ATSU-Kirksville College of Osteopathic Medicine (ATSU-KCOM) and ATSU-Missouri School of Dentistry & Oral Health (ATSU-MOSDOH) students.
ATSU-KCOM Student Ambassador Spotlight: Michael Megafu
Michael Megafu, OMS II, completed a bachelor's degree in biology with a minor in chemistry at St. Joseph's University. He also earned his master of public health degree in epidemiology from SUNY Downstate School of Public Health.
Megafu is originally from Brooklyn, New York. He enjoys basketball, bowling, and movies. Megafu also enjoys playing the piano in his spare time, and serves as a pianist and bassist at a local church. He is an active member of many clubs, including Physical Medicine & Rehab, Internal Medicine, Surgery, and is a member of the MEDleys, an ATSU acapella group. He also holds leadership roles in Christian Medical and Dental Association and Student National Medical Association chapters.
Megafu's professional goals are to publish a research project, eventually get into a competitive residency, and one day serve as a teaching physician in an underserved community.
"ATSU predicates itself on innovation, research, and diversity, which has allowed me to actively work towards these goals," Megafu said. "The opportunity to do a medical education fellowship next year also adds to the ability to learn curriculum development, conduct research, and hone my skills to present information and lecture."
Megafu said he was inspired to participate in the ATSU Student Ambassador program because of what he personally received during interviews.
"The ambassadors serve a glimpse to the community environment that ATSU offers and have an opportunity to impart a first impression that can make or break one's decision to attend," he said.
His favorite aspects of the ambassador program are representing ATSU and being the one to answer questions or address concerns that applicants may have.
Congratulations, Michael Megafu, for being our ATSU-KCOM Student Ambassador spotlight!
ATSU-MOSDOH Student Ambassador Spotlight: Jody Pfeuffer
Jody Pfeuffer, D2, completed a bachelor's degree in animal science at Texas Tech University. Pfeuffer is from Christoval, Texas. She enjoys walking her dog, Tucker, running, cooking, and baking. She also tries to spend as much time with family as possible.
Pfeuffer is actively involved with the American Student Dental Association at the chapter, district, and national level. She is also a member of the University Student Association.
"Following graduation, I plan to work as a general dentist in a community health center. ATSU helps me to achieve this goal by providing ample opportunities to interact with people from all different cultures, beliefs and ethnicities," she said.
Pfeuffer decided to participate in the ATSU Student Ambassador program to help share the many positives of ATSU.
"I love interacting with prospective students and helping them with their questions and concerns during the sometimes stressful application process," she said.
Congratulations, Jody Pfeuffer, for being our ATSU-MOSDOH Student Ambassador spotlight!