Interprofessional team represents ATSU at Clarion Competition
Posted: April 15, 2014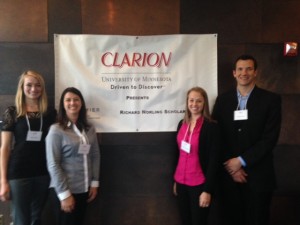 From left to right: Lindsey Jader, OMS II, Rachel Allgor, AuD '17, Bethany Galbraith, OT '16, and Ben Meyer, OMS II
An interprofessional team of students represented A.T. Still University (ATSU) at the 2014 Clarion Competition, an annual national event sponsored by the University of Minnesota. Clarion is a University of Minnesota student organization dedicated to improving healthcare through interprofessional collaboration. The competition requires interprofessional teams of four students to conduct a root-cause analysis of a sentinel health event.
Rachel Allgor, AuD '17, Bethany Galbraith, OT '16, Lindsey Jader, OMS II, and Ben Meyer, OMS II (School of Osteopathic Medicine in Arizona), represented ATSU in Minneapolis. The team focused on improving care of patients with heart failure.
Elton Bordenave, MEd, CHC, assistant professor, Arizona School of Health Sciences, William Wightkin, PharmD, MS, assistant professor, ATSU-SOMA, and Barbara Maxwell, PT, DPT, MSc, Cert THE, FNAP, professor and A.T. Still University (ATSU) director of interprofessional education and collaboration, assisted the student interdisciplinary team in their preparations.
Although the team did not place, students believed that it was an incredible learning experience.
"Participating in extracurricular opportunities such as the Clarion Case Competition has tremendously increased the breadth of my education, allowing me to gain a more holistic picture of the healthcare field," said Galbraith. "As for the team, we were able to pool our collective knowledge and creatively apply what we have learned and researched to a realistic case.ATSU has a large number of talented and passionate students, and we were excited to represent such a great university at a national level."