Interdisciplinary team represents ATSU at Clarion Competition
Posted: April 25, 2013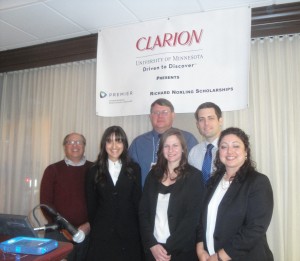 An interdisciplinary team of students represented A.T. Still University (ATSU) at the 2013 Clarion Competition, an annual national event sponsored by the University of Minnesota. Clarion is a University of Minnesota student organization dedicated to improving health care through interprofessional collaboration. The competition requires interprofessional teams of four students to conduct a root-cause analysis of a sentinel health event.
Suzie Aparicio, '14, AT (Arizona School of Health Sciences); Sarah Usher, D3 (Arizona School of Dentistry & Oral Health); Kenyon McAferty, OMS I (Kirksville College of Osteopathic Medicine); and Erica Brueggen, OMS III (School of Osteopathic Medicine in Arizona), represented ATSU in Minneapolis on April 20. The team focused on issues surrounding the high level of 30-day hospital readmissions for patients with chronic obstructive pulmonary disease (COPD).
Elton Bordenave, M.Ed., CHC, assistant professor, Arizona School of Health Sciences, and William Wightkin, PharmD, MS, assistant professor, ATSU-SOMA, assisted the student interdisciplinary team in their preparations. Although the team did not place, students believed that it was an incredible learning experience.
"The Clarion Competition provided me with an opportunity to collaborate with colleagues in other ATSU programs and develop solutions for the most pressing concerns in healthcare," said Sarah Usher, D3. "I have made lifetime friends and have increased my awareness of the importance of interprofessional collaboration needed to advance the quality and consistency of patient care."
"The Clarion Competition was an invaluable experience that allowed me to interact with a diverse interdisciplinary team," said Erica Brueggen, OMS III. "While learning about important healthcare delivery issues, I had the opportunity to develop friendships with several talented people. Clarion was an amazing opportunity, and I would suggest it to anyone who is working toward a career in the health sciences."