In the footsteps of soldiers
Posted: June 6, 2020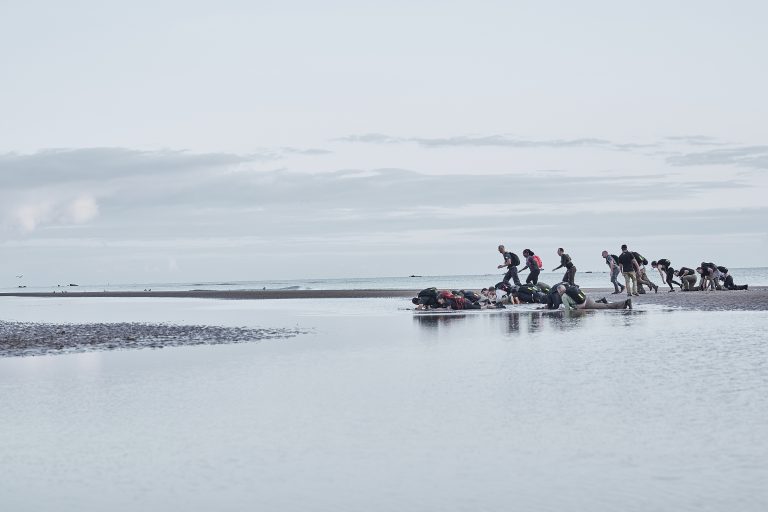 ATSU employee Stephanie McGrew learns about D-Day while ruck marching through Normandy, France. Photo credit: GORUCK
One year ago today, Stephanie McGrew ran up and down Omaha beach in Normandy, France, with a 20-pound backpack on her back. It was early in the morning, and the ocean was at low tide, just like it would have been on June 6, 1944.
McGrew, ATSU's diversity & inclusion coordinator, was one of 100 people from around the world participating in a memorial event hosted by GORUCK, an organization created by military veterans. The organization leads ruck marches throughout the year and hosts memorial events on significant dates in American history. This event honored the 75th anniversary of D-Day, and McGrew and her group got a firsthand account of that momentous day.
Rucking in military terms means carrying a weighted pack while running or marching a certain distance through rough terrain. As McGrew and company rucked up and down the beach, they stopped to hear a powerful story from a D-Day survivor. He recounted that day, describing how he was shot in the leg as his parachute landed. He hid for hours behind a rock, pulling other men to safety throughout the fight. He thought he would surely die there. When the fight ceased, he was able to get himself to safety.
"It was a once-in-a-lifetime opportunity to hear these survivors' stories and see them relive those moments," McGrew said. "Extremely powerful moment in my life that I will never forget."
As they left the beach and headed inland to the nearest town, they saw people dressed in period uniforms, camps reminiscent of that time, and replicas of World War II military vehicles scattered through the streets. McGrew described it as stepping back into history and reliving those memories. When they arrived to town, many citizens came out to greet them, waving French and American flags as they ran by.
The group walked and ran approximately 20 miles per day during the two-day trip, while wearing weighted rucksacks. Through the beautiful countryside, abandoned bunkers peppered the landscape. They passed by large craters still in the earth from artillery striking the ground. At one point, 50 people stood inside one of the enormous craters.
"It was really humbling to be a part of that experience and be able to walk in the actual footsteps of these soldiers," McGrew said. "In school when you are learning in history, you kind of glaze over the full situation, but being there, you're learning more in-depth information."
On the last day, the event culminated at the Normandy American Cemetery and Memorial. In memory of the day, B-52 fighter planes flew over the site. The group took in the sights and sounds around them and gave thanks to those who perished. The experience left McGrew with a true appreciation for the military forces and all who served.
"We wake up every morning and live on our own accord, able to live how we please," McGrew said. "What the military has done and continues to do and the sacrifices they have made to give us these freedoms, you don't always understand that until you see it with your own eyes."