Immersed
Posted: July 11, 2018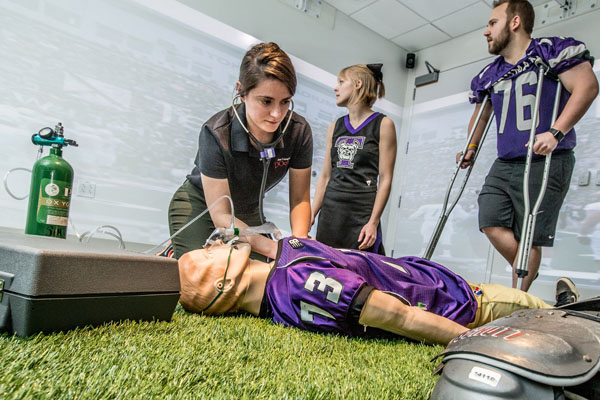 Immersed in a football game simulation, ATSU-KCOM medical education fellows Brianne Haggard (left), Nichole Norgard (center), and Kyle Baum (right) help a player suffering from an asthma attack.
Imagine a packed football stadium, a deafening noise level with fans and cheerleaders chanting loudly, and sounds of play action on the field. Then imagine in the midst of the chaos, a player goes down on the sideline with a severe asthma attack. The game and chaos continue, and you are the healthcare professional who springs into action to save a life.
ATSU students no longer need to imagine this scenario. Now, students can participate in an immersive clinical simulation experience. In fall 2017, the University introduced an immersion simulation room within the Drabing Human Patient Simulation Center on the Kirksville, Missouri, campus.
"Simulation-based learning has enhanced our learning process in a controlled, safe environment," says Lisa Archer, RN, BSN, director, simulation & performance assessment.
At ATSU, human patient simulators, or manikins, are widely used as an education modality to improve student learning outcomes, competencies, and patient care. The simulated environment allows learning and re-learning as often as required to correct mistakes, perfect steps, and fine-tune skills to optimize clinical outcomes.
"By placing students in an immersive simulation experience, faculty can introduce techniques to replace and replicate substantial aspects of a real-world scenario, such as sounds, visuals, or other sensory influencers," says Archer.
The sports-related immersion scenario is only one example of the varied immersive scenarios ATSU plans to develop and offer its students. Additional scenarios will include a military extraction site, emergency room, accident scene, and more. Each scenario is replicated meticulously to develop health professionals' knowledge, skills, and response.
"The simulation lab provides a safe, unique opportunity for students to integrate classroom material and apply it to scenarios we will likely be responsible for in the future," says Jessica Clark, OMS II. "Each time I step into the lab, the hands-on approach provides a memorable learning experience that cannot be replicated by a flashcard."