How we serve
Posted: May 21, 2019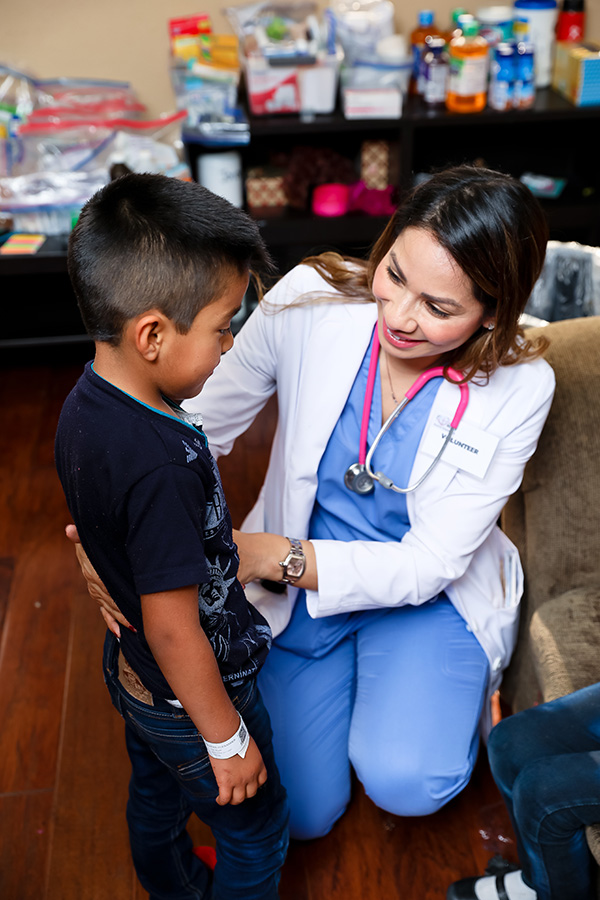 Dr. Elizabeth Lopez-Murray volunteers to care for asylum-seekers in Phoenix.
Community needs inspire calls to service
Service plays a major role in the lives of many who work and study at ATSU. Offering time and skills to help others is a signature element of the University's culture. Service experiences fulfill community needs while often causing a positive transformation within people on a personal or professional level.
Still Magazine spoke with ATSU alumni and faculty about experiences that influenced them and how they choose to serve. Whether these experiences changed the trajectory of their careers or contributed to societal needs, these individuals have found their own ways to put service above self and provide for their communities.
The volunteer
Elizabeth Lopez-Murray, DHSc, '09, PA-C, '05, has a history of volunteering. As an undergraduate student, she traveled to Mexico to help provide basic healthcare to impoverished communities. While she was able to take patient vitals, her medical skills and knowledge were limited compared with those of the physician assistants (PAs) who worked alongside her. The exposure to their mentorship and compassion inspired her to pursue a PA career.
A few years later as a PA student, Dr. Lopez-Murray completed a clinical rotation in an underserved village in Guatemala. This experience solidified her commitment to helping communities in need and set her on the path to volunteer as a provider.
In October 2018, Dr. Lopez-Murray took her volunteer work to another level. In addition to being a provider at Clinica La Familia in Glendale, Arizona, and an adjunct faculty member at ATSU-ASHS, she began volunteering her time and skills to helping immigrants in Arizona seeking asylum.
Since then, she has continued to provide medical care to these individuals while leading efforts to collect monetary donations and medicine. Most of the people she treats are dehydrated and have infections, colds, or fevers, although some cases are more severe.
"When I first started, there was no one caring for them," Dr. Lopez-Murray says. "There were so many sick children, it broke my heart."
Dr. Lopez-Murray notes many of the asylum-seekers are coming from Guatemala, Honduras, and El Salvador, with nothing but the clothes on their backs. In some cases, children are crossing the border alone. Because of the increased number of asylum-seekers at ports of entry, federal government detention centers have become overcrowded, causing U.S. Immigration and Customs Enforcement to release these people in cities along the border, including Phoenix.
The local effort to provide humanitarian assistance for these migrant families began with a church leader, who unified area churches to offer clothing, food, and medical care. Dr. Lopez-Murray and a few providers from her clinic were the first to volunteer their time and medical skills.
"Since the beginning of the year, it seems there are more and more people," Dr. Lopez-Murray says. "More than 100 families are dropped off each day at bus stops."
The work and long days can be overwhelming, especially with a family of her own. However, through social media, word of mouth, and an article she wrote for the American Academy of PAs, more providers have started volunteering. In fact, some are coming from across the country to lend their services to the asylum-seekers.
"Every single time I volunteer, it opens my eyes," she says. "No matter how tired I am, the children give me the energy and motivation to continue."
The cancer bashers
Wade Sewell, DO, '03, and his wife, Melanie, have always valued community. After Wade completed medical school and residency in Kirksville, Missouri, they moved to Mason City, Iowa, in 2007. The anesthesiologist and his family quickly acclimated to their new town, as the close-knit residents made them feel at home.
Several years later in 2014, a series of heartbreaking events shook the community and left the Sewells feeling helpless. Three close friends were diagnosed with breast cancer, one after another in February, March, and April. Then, a fourth friend was diagnosed with melanoma in May.
"These women were all under 40 and all young mothers," Melanie says. "It felt like the sky was falling."
Refusing to sit on the sidelines and do nothing, the couple sprang into action. They chose to hold a fundraiser to support their local cancer center, and within a few weeks, they arranged the "Breast Backyard Bash." The fun-filled event, held in the Sewells' backyard, was complete with party essentials including two bands and a food truck.
Individuals from around the community came together to honor those affected by cancer and celebrate the web of people involved in cancer support – medical professionals including doctors, nurses, techs, and radiologists; friends who deliver meals; neighbors who snowblow driveways and mow lawns; and church members who keep praying. In total, 200 people attended the event, raising about $10,000.
"For one night, our four sweet cancer-fighting girlfriends danced in our backyard under the stars and, for a moment or two, forgot about cancer," Melanie says.
Not only was the Breast Backyard Bash a success, it was a smash within the community. Since 2014, it has become an annual event, and the community has continued to honor and support its cancer-fighting friends and their families.
"Unfortunately with cancer, it seems there are always more – friends of friends, co-workers, and even classmates of our children," Wade says. "We are honoring more and more people with this event each year."
The Sewells believe strongly in being useful to others. When their community faced a crisis, they did not miss their chance to be of service. They found a way to rally around cancer fighters and survivors while raising money for an important cause.
"This August, we will host the sixth annual Breast Backyard Bash," says Wade. "We've raised over $50,000 in five years, and I don't see us stopping anytime soon."
The novel inspiration
During her residency at Harbor-UCLA, Shipra Bansal, MD, assistant professor, ATSU-SOMA, came across a book that changed the way she thought about medicine. The book follows a real-life husband and wife surgeon team working in rural India. They wanted to bring better healthcare to the region by improving access to care.
After completing public health training at Johns Hopkins, the duo returned to India and opened a $1 million hospital. While the hospital did help people in the area, the couple realized it was not the solution to improving access to care. People were coming back to the hospital every six months with the same ailments. Patients were presenting the same infections and were not getting to the hospital in time for childbirth.
The husband and wife team decided to change their approach. With many farming communities in the region, they created the Comprehensive Rural Development Project where they trained a leader from each village to provide basic healthcare. The project proved effective, reducing infant mortality by 70-75 percent and improving other health indicators.
Inspired by their story, Dr. Bansal flew to India and visited the hospital to see for herself how the couple managed the project. She even traveled to some of the villages to observe leaders at work. For her, the experience cemented the importance of community-based healthcare.
"Their approach to healthcare changed my perspective," says Dr. Bansal, who had already planned to pursue underserved medicine. "It convinced me of how I wanted to practice."
Today, Dr. Bansal's experience in India is still a vivid reminder of how to advance health. To make lasting changes on a large scale, health should be addressed in the context of community – where people live, work, and play.
As a provider at North Country HealthCare in Flagstaff, Arizona, Dr. Bansal has found her own way to serve patients using community-based medicine. She created nutritional group visits for those with metabolic syndrome, including hypertension, diabetes, and high cholesterol. Group visits are not common practice. Much like a typical doctor's visit, patients check in and get their vitals taken, but rather than going into an individual exam room, patients meet as a group in a community room to report how they are doing and changes they are making.
"I tried to help people make lifestyle changes within the one-on-one doctor-patient model in the clinic," Dr. Bansal says. "I realized it does work for some but not most."
The nutritional group visits feature a cooking component, which she says has been far more effective at helping people transition their diets to reduce cholesterol, reverse pre-diabetes, and decrease inflammation and weight. The first two years of data showed participants lost an average of 7 pounds over six weeks and reduced body mass index by 1.15, cholesterol by an average of 15.8 mg/dL, and triglyceride levels by an average of 47 points.
Dr. Bansal notes the supportive atmosphere of group visits and how patients seem to motivate each other. Additionally, she encourages ATSU-SOMA students to participate in the group visits.
"The project in India was part of my inspiration to implement community-based care into my environment," Dr. Bansal says. "We have created a community space for patients, and students get to see a different model of care."
The unexpected path
Before becoming a physician assistant, Eden Etcheverria, MS, PA-C, '17, thought she wanted to work in a private practice setting. It's a common plan for many people on their journey to becoming a healthcare provider. However, as a student at ATSU-ASHS, she was exposed to a variety of experiences that made her consider a different path.
Etcheverria anticipated a career in women's health, but during her clinical rotations, she realized it was not her calling. Similarly, she thought she would love surgery and ER rotations, but she didn't love those either. Instead, she was drawn to the disciplines she least expected: family medicine and internal medicine.
"I enjoy following patients through their life and getting to know them," Etcheverria says.
She completed her clinical rotations in rural Louisiana, including an internal medicine rotation at a community health center with Gary M. Wiltz, MD, chair of ATSU's Board of Trustees. Her positive experiences influenced her decision to stay in the area after graduation.
"Most people want to work in private practice, but that leaves all those who need healthcare on the back burner," she says. "When I started the program, I saw how important it was to serve the underserved."
Now a full-time provider at the community health center Teche Action Clinic in Franklin, Louisiana, Etcheverria serves vulnerable populations in need of access to care. She not only works with them to improve their health but also listens to them to understand their needs and concerns.
"There are many times where I have patients who want so badly to get their health under control, but they have to decide whether to pay their light bill or pay for their medications," she says. "I listen to them because sometimes they just want to know they are heard."
In her short time working at the clinic, she has built strong patient relationships. She has some patients who told her they never had anyone take the time to listen to their heart or check their stomach. After returning from her recent maternity leave, several nurses said Etcheverria's patients didn't want to see any other provider while she was away.
The gratitude and loyalty her patients have shown speak volumes about her service and compassion. By opening herself up to various educational opportunities, she found a fulfilling career where she felt she could make a difference.
"I allowed myself to experience working in a community health center," Etcheverria says. "I listened to what my heart was saying that this is where I am happy, and this is where I am finding joy."
The service role
Service may come in many forms, but the common element of each experience is taking the time and energy to put the needs of others first. For the alumni and faculty in this article, and the many others across ATSU who are community-oriented, being of service is a natural role. Serving others allows each person the opportunity to give back by giving of themselves while ultimately contributing to a greater good.
Tell us about your service experiences! Email stillmagazine@atsu.edu to continue the conversation.