Holiday spirit alive at Hope's Kitchen
Posted: December 12, 2013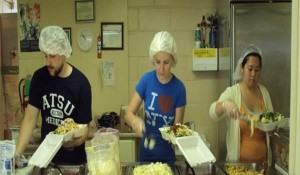 Students and faculty involved with Alpha Phi Omega (APO) at A.T. Still University's Kirksville College of Osteopathic Medicine are having a busy season with Hope's Kitchen, which offers hot meals for those in need in the Kirksville, Mo., area.  Hope's Kitchen is open two Saturdays a month, and has recently increased the number of meals served each 3rd and 4th Saturday of the month from 200 to 250.
Hope's Kitchen is preparing for its first Community Christmas Celebration on Dec. 21 from noon to 1:00 p.m. at Mary Immaculate Catholic Parrish. Instead of delivering meals out to the community, everyone is invited to come in to the kitchen for a social meal. The entire community is invited and door prizes will be given away.
Alpha Phi Omega (APO) is a national service fraternity that has provided more than fifty years of service to the Kirksville community, and is just one of several organizations involved with Hope's Kitchen.