History mystery
Posted: May 13, 2014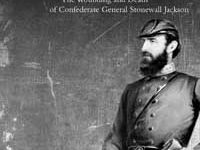 After 150 years, the mystery is solved. Thanks to Mathew Lively, DO, MHA, '11, and his book "Calamity at Chancellorsville," the controversy surrounding Stonewall Jackson's death during the Civil War is finally laid to rest.
Dr. Lively always had a fascination with the Civil War. A native to West Virginia—the only state born of the Civil War, he was similarly interested in Stonewall Jackson. Jackson, who was born in present-day West Virginia, served as a Confederate general during the war and is a popular icon to the region for his commitment to the Southern cause.
As Dr. Lively's interest in medicine grew, he became equally interested in the medical aspects of the Civil War, which led him to some lingering controversies surrounding Jackson's wounding and eventual death. Dr. Lively scoured historical records, but he couldn't find a definitive account of one of the most pivotal events of the Civil War.
"No one had put together a scholarly analysis of the situation," says Dr. Lively, a practicing physician and professor at West Virginia University. "I'm an academic physician, so I decided I would do it."
On May 2, 1863, at the Battle of Chancellorsville, Jackson rode between the battle lines at night. As he returned to his own line, his men mistook him for the enemy. They shot him three times, twice in his left arm and once in his right hand. The next day, his left arm was amputated, and seven days later, he died of what his doctor believed to be pneumonia. According to Dr. Lively, the eyewitnesses to the events disagreed about key facts, primarily Jackson's location when he was shot and his actual cause of death. Determined to find answers, Dr. Lively traveled around the country to different historical societies, uncovering clues and gathering resources.
"Because I practice and teach and am a sports team physician, I did the research and traveling in my spare time," says Dr. Lively, who was simultaneously completing his master's degree at SHM.
Ten years later, after much research and writing, his book was complete. Covering the last 20 days of Jackson's life, "Calamity at Chancellorsville" set the record straight. It begins with a visit from Jackson's family prior to the battle and follows Jackson through the conflict and ultimately to his fatal outcome.
Marking the 150th anniversary of Jackson's death, the book was published in May 2013 and is in its second printing.
"I plan to write more books," Dr. Lively says. "I haven't decided exactly what the topic will be, but it will probably cover some medical aspect of the Civil War."