Hippotherapy offers unique rotation opportunity for students
Posted: September 22, 2021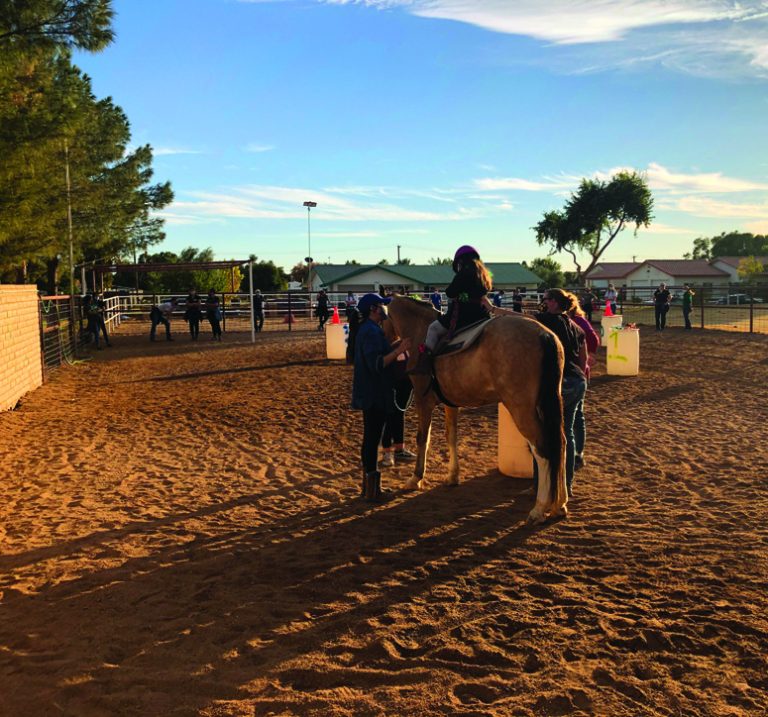 When the COVID-19 pandemic swept the nation, many ATSU programs made adjustments to their clinical rotations, shifting from hands-on, in-person labs to virtual simulations. As time went on, many students and faculty members were feeling burnt out on virtual simulations, which prompted two faculty members from ATSU-ASHS' Occupational Therapy (OT) department to develop a unique learning opportunity. Adam Story, PT, DPT, OTR/L, OTD, MTC, and Jennifer Radziak, OTD, OTR/L, CHT, researched and planned an alternative strategy for the Fieldwork Level I occupational therapy pediatric rotation.
"Students are usually in person with therapists and patients," Dr. Radziak said. "We wanted to make sure we gave them an experience that would prepare them for their level II internships, where they are actually out in the community working with an occupational therapist and real patients."
When they were earning their respective degrees, Drs. Story and Radziak briefly learned about hippotherapy – a style of therapy used by occupational, physical, or speech therapists where horses are used to facilitate specific treatments. While there are countless benefits to this type of therapy, it is not regularly taught in detail as part of the traditional OT curriculum.
"When I was in school in Florida, we had a section of the class where they put up a PowerPoint and said, 'This is hippotherapy. It is amazing; it does amazing things,'" Dr. Story said. "There are all these different things you can work with it. And that's it. Let's move on to the next subject."
"I had a few hours of observation," Dr. Radziak said. "It was a blip on the radar."
After researching CDC guidelines and taking all University required safety precautions, Drs. Story and Radziak created a week of hippotherapy fieldwork for students to have a hands-on experience, while keeping safety a top priority. In addition, they created an online option for any student who did not feel comfortable attending the in-person fieldwork experience.
"We have the in-person crew and the online crew," Dr. Story said. "The online component parallels the in-person experience."
Hippotherapy offers a distraction for patients during therapy treatments and may lead to more productive therapy sessions. In one instance, a client had some tone in one of her legs. While she was on the horse, one of the side walkers was able to give her a little pressure and stretch her leg over a longer period of time.
"If you were in a clinic, how long is a kid going to sit there and let you stretch their leg?" Dr. Radziak said. "But if they're are on a horse and they're doing some other things, and they're playing and having fun, they don't realize the whole 45 minutes they are on the horse they are getting that stretch."
Drs. Story and Radziak are excited about the offering of hippotherapy as part of the OT curriculum. It will provide an additional type of therapy for students to add to their toolbox for the future.
"Even people who are kind of afraid of horses, or who are not quite interested in hippotherapy, have a better sense of what it can offer," Dr. Story said. "These 56 students are going to go out into the world, and if they have a perfect situation where a patient could benefit from hippotherapy, they will know about it and will be able to refer the patient for it."