Highlights from day one of 2021 Beyond Flexner Virtual Conference
Posted: April 27, 2021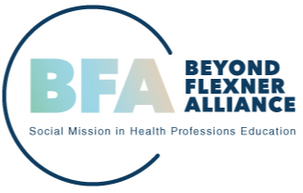 Monday, April 26, marked the opening of the 2021 Beyond Flexner Virtual Conference, co-hosted by A.T. Still University (ATSU) and Arizona State University's Edson College of Nursing and Health Innovation.
Here are a few of the many highlights from the first day:
ATSU President Craig Phelps, DO, '84, welcomes attendees
"Beyond Flexner reminds us to restore the human component of healthcare," Dr. Phelps said.
"Current and future leaders participating in the conference are who our nation and world look to for medical education and healthcare innovations, energy, thoughts, and ideas."
Leana Wen, MD, MSc, FAAEM, provides Monday's keynote address
On Fitzhugh Mullan, MD, PhD, founder of Beyond Flexner Alliance…
"The work of social mission is not done. The work of health equity in public health is not done. Throughout his life, Fitz had carried the torch as he taught our master class here at Beyond Flexner, in leadership, scholarship, and humanity. Now, we are the ones carrying forth Fitz's legacy and carrying on his life's work as our own," said Dr. Wen, emergency physician, visiting professor of health policy and management at George Washington University, and nonresident senior fellow at the Brookings Institution.
"It's up to each of us to channel Fitz's fire in the belly, and it's up to each of us to be the examples for others to follow and to strive for not only a better world, but a fairer and more equitable world."
On public health's invisible importance…
"Public health saved your life today. You just don't know it," Dr. Wen said. "The work that we do works when it's invisible. By definition, there is no face of successful public health, because we have prevented something from happening."
On COVID-19 lifting the curtain on health disparities…
"This is something all of us as Beyond Flexner people really understand about these underlying disparities that we have seen amplified during COVID-19," Dr. Wen said. "All of these social determinants have really come out during the pandemic, and we have seen how COVID-19 has unveiled many of these issues. I hope this will give us additional impetus to addressing these going forward."
On eliminating health disparities…
"When we don't have intentional focus on disparities, we in fact see so many of the problems we've had during this pandemic," Dr. Wen said. "Policies, if they are not intentional in addressing equity, will end up hurting those who are the most vulnerable the most."
On what institutions can do to bring about change…
"I think public health should be core training for everyone. I would love to see teachers, police officers, people working in other fields also learn about the importance of public health, because the work that they do could be public health, too," Dr. Wen said. "If they understand things from a public health lens, how different would that be?
"People in public health can do more by insisting that we are at the table. If we are not at the table for certain conversations, it is our job to either get ourselves to that table, or create our own tables. Otherwise, public health is going to be forgotten."
ATSU faculty members present "Growing Our Own at ATSU- A: Innovative Learning Integration; B: Integrated Primary Care, Oral Health, and Behavioral Health; C: Community Empowerment."
Presenters included Kim Perry, DDS, MSCS, FACD, associate vice president, University Strategic Partnerships; Sharon Obadia, DO, associate dean, clinical education and services; Patricia Inks, director, ATSU-Missouri School of Dentistry & Oral Health Dentistry in the Community and Integrated Community Service Partnerships; Victoria Michaels, director, ATSU-Arizona School of Dentistry & Oral Health (ASDOH) BRITE; Kimberly DeVore, MS, PA-C, assistant professor, director, clinical education. Moderated by Lihua Dishman, DBA, MBA, associate professor
This session highlighted steps for "growing our own" through innovative learning integrations, community empowerment, integrated learning experiences, integrated primary care, oral health, and behavioral health.
"I think about A.T. Still University living its mission and being intentional on what it is we say we will do. If we want to increase the number of healthcare providers in underserved patient populations, we have to do something to ensure that that happens," Dr. Perry said.
"We look at how we can partner, how we can engage the community, how can we have a recruitment fair and build teams within our institution and then across to our community health centers, engage the students, and actually connect students to community health centers."
ATSU faculty members present "Social mission and health equity from classroom to clinic practice" session
Presenters included Marcia Arbizu, MBA, director, Integrated Community Service Partnerships; Heather A. Johnson, RDH, MEd, co-director, Dentistry in the Community; Victoria G. Michaels, LCSW, director, ATSU-ASDOH BRITE; and Wayne W. Cottam, DMD, MS, vice dean, ATSU-ASDOH
The session examined ways ATSU-ASDOH works to introduce students to dentistry in the community and foster their future contributions to public health.
"We understand that maybe not all of our graduates will go on to public health. We really hope they do, but not all of them will. We at least want to plant those seeds in their minds to be community-minded dentists, even in their own private practices, whether it's donating a day a month or a day a year to free dentistry, or to volunteer with organizations that provide free- or reduced-cost dentistry," Arbizu said. "Again, planting those seeds to be that change in their communities."