Her home for healthcare
Posted: August 4, 2017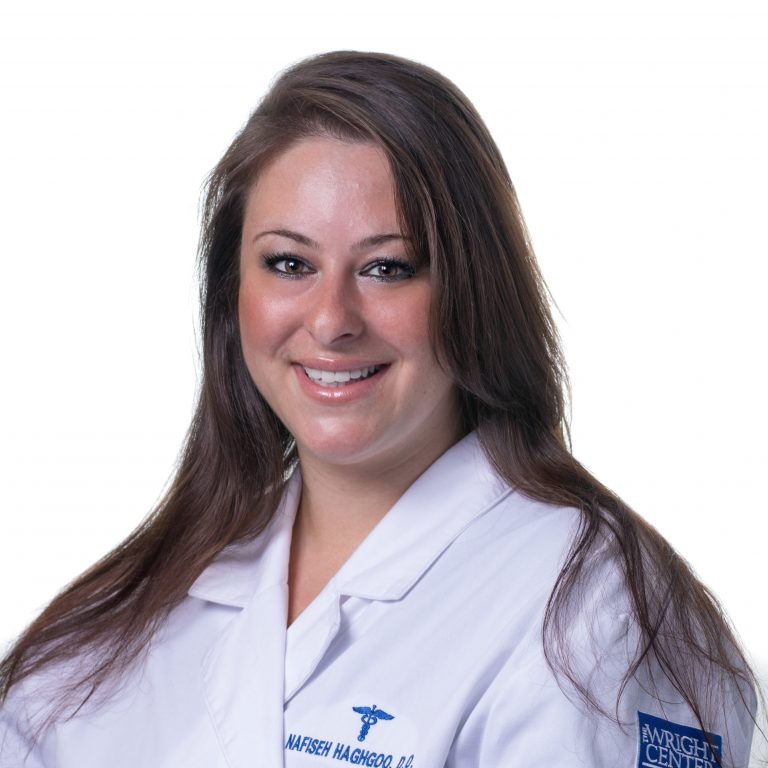 ATSU-SOMA's innovative curriculum and the ability to return to HealthPoint drew Dr. Haghgoo to the School.
Nafiseh Haghgoo, DO, '14, was 6 years old when she knew she wanted to be a physician. Her journey from war-torn Iran, to Germany, and to the United States always revolved around the goal of becoming a doctor.
"My parents didn't want me to grow up in the middle of the Iran-Iraq war, surrounded by the Iranian Revolution," she says of her family's move to Germany at age 5. "My parents made the ultimate sacrifice. They left their families, friends, and everything they knew behind to give me a better life."
Dr. Haghgoo's aunt died at a young age of rheumatic heart disease, a disease that could have been prevented with antibiotics had it been caught early. Unfortunately, her aunt did not have this opportunity because of the lack of healthcare and early diagnosis at a time of war, revolution, and uncertainty. That experience is what made Dr. Haghgoo want to be a physician, to help others.
After completing high school in Germany, Dr. Haghgoo and her family moved to Washington state in 2000 to be near family. While in Washington, they began visiting HealthPoint's location in Redmond for medical care. Dr. Haghgoo was inspired by her experience as a patient at the community health center.
"HealthPoint gave comprehensive care and treated everyone the same – regardless of language, culture, religion, race, or socioeconomic status," she says. "I loved how welcome everyone made me feel."
Dr. Haghgoo attended Bellevue College and the University of Washington for her undergraduate degree. Following graduation, she worked as a research assistant at the University of Washington in the radiology department. She then set her sights on ATSU-SOMA after learning HealthPoint was an option as a training site in the School's clinical curriculum.
In 2011, Dr. Haghgoo returned to HealthPoint as a medical student. Despite her initial plans to become a surgeon, she quickly realized she equally enjoyed every specialty and rotation, which led her to family medicine.
"HealthPoint was, in a way, my home, and I knew I would thrive there," she says. "I knew I belonged at HealthPoint."
Now a resident physician specializing in family medicine and obstetrics at HealthPoint's Auburn North location, Dr. Haghgoo provides the same attentive care to her patients that she remembers receiving.
After every single patient encounter, Dr. Haghgoo shakes the patient's hand. Patients will often say, "Thank you for your care," or "Thank you for your help." For her, that is a constant reminder she is on the right track.
Image above: ATSU-SOMA's innovative curriculum and the ability to return to HealthPoint drew Dr. Haghgoo to the School.