Helping the homeless
Posted: September 23, 2020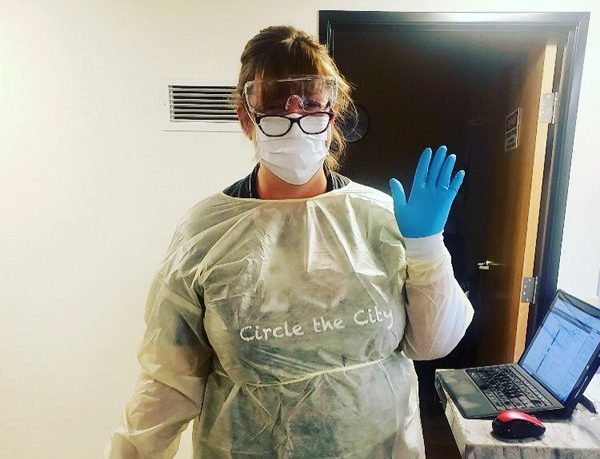 Dr. Tessa Tibben works with Circle the City to help those experiencing homelessness during the pandemic.
Since the COVID-19 pandemic began, Tessa Tibben, DHSc, MS, PA-C, '08, assistant professor, ATSU-ASHS, has been working with Circle the City (CTC), an Arizona organization serving the needs of those experiencing homelessness. During the course of the pandemic, CTC's focus quickly shifted to finding creative ways to serve this population and overcome challenges of sheltering in place and social distancing, since homeless encampment areas tend to promote people living in close proximity.
CTC operates two outpatient clinics; one is located on the Central Arizona Shelter Services Human Resource Campus. This location is able to offer additional coverage and provide service on nights and weekends. At both locations, the CTC team developed a tent area for "persons of interest" awaiting COVID-19 test results. They also designated sections in the respite to serve any recovering COVID-19 patient requiring a higher level of care, while keeping them separate from the rest of the population.
"CTC has also developed telephonic services," Dr. Tibben said. "We can conduct some visits over the telephone for patients, reducing exposure."
While working to provide services to the homeless community, healthcare professionals relied heavily on each other to get through the challenges they faced. Even in the midst of a pandemic, they continued their daily functions while taking on additional responsibilities.
"Shortly after the shelter-in-place order began, I found myself stressed like so many," Dr. Tibben said. "It was an education colleague who helped me tease through the layers of my stress."
She noted the stress of being an academician during this time and trying to swiftly shift gears to deliver the same quality education to students, in addition to the stress of the clinic, caring for patients and clinic colleagues.
"Once I identified the layers, I was able to shift my energy toward finding something in each arena I was grateful for and then channeling that energy into creativity so I could best serve each area," Dr. Tibben said. "Some days, I still find myself feeling the weight of the stress; however, with recognition comes the opportunity to reflect, meditate, and release."