Heart for the underserved
Posted: December 7, 2017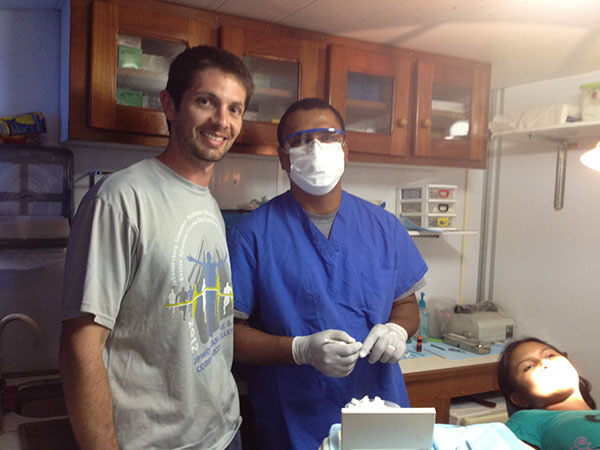 Prior to dental school, Dr. Hamby (left) took a medical mission trip along the Amazon River in Brazil.
For Jake Hamby, DMD, '17, post-graduation life has been a pleasant transition. He's been able to build a rapport with a new patient population while working at the Marshfield Clinic in Medford, Wisconsin. There, he devotes his time to caring for an underserved population, a mission he pursues with zest.
"And then getting a paycheck is awesome, too," he adds, laughing.
Dr. Hamby has a wife and three kids. Over a year ago, he became a grandpa. With such a busy family life, he knew pursuing a doctorate in dentistry was never going to be easy. He describes his four years of dental school as a juggling act, a process of balancing family and academic commitments. But with a bit of foresight, he made it work.
"It's really all about time management and priorities," Dr. Hamby says. "You have to make goals, plan out your day, and stick to your plan."
Don't forget that last part; it's crucial, he jokes.
While in school, Dr. Hamby was the student president of ATSU-MOSDOH. As part of the Student Government Association (SGA), he was in close contact with many of the medical students at ATSU-KCOM. The process became a great interprofessional experience, he says. SGA married a number of perspectives from different fields of study, all coming together to improve campus life for the entire student body.
Whether it's SGA or the Marshfield Clinic, Dr. Hamby has a passion for service. It's one of the things that led him to dentistry in the first place.
It all started with a medical mission trip to Brazil. Dr. Hamby was part of a crew that traveled from village to village along the Amazon River, providing dental services and healthcare aboard a large boat. They'd stop, invite local residents on board, administer care, then proceed to the next location. The process continued for several days.
Seeing the good he could accomplish, Dr. Hamby made the decision to apply to dental school. ATSU, with its mission of serving the underserved, was a perfect fit. His education has given him the opportunity to make a positive difference in the lives of others.
"No matter where my career leads me," he says, "I'll always have a heart for the underserved."