Gov. Brewer supports Fall Prevention Outreach
Posted: September 10, 2013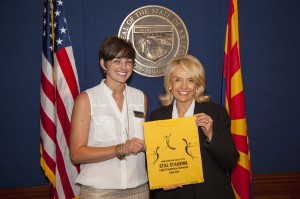 Caroline Lindsey, AuD, '16, met with Gov. Jan Brewer on Thursday, Sept. 5 and discussed A.T. Still University's Still Standing Fall Prevention Outreach, an effort to alleviate falls among older adults.  The meeting was arranged in conjunction with the Governor's recording of a public service announcement to promote National Falls Prevention Awareness Day and in collaboration with the Arizona Fall Prevention Coalition.
Still Standing Fall Prevention Outreach is a community health education program conducted by ATSU's Aging Studies Project. The student-driven, faculty-supervised program teaches ways to reduce the fear of falling and increase activity levels among older adults.
"We are grateful for the opportunity ATSU had in playing a role in the production of this important public service announcement," said Jeff Alexander, PhD, associate professor, doctor of health sciences. "The announcement will further the mission of preventing falls among older Arizonans, and will support ATSU and statewide organizations in their efforts in doing so."
Since 2009, more than 200 students from ATSU's physical therapy, occupational therapy, audiology and athletic training programs have presented the evidenced-based Matter of Balance program to more than 1,500 seniors in Arizona.  Approximately 2,800 community service hours are accounted for each year by students and faculty participating in the outreach.
ATSU holds a nine-year association with the Governor's Office on Aging and has been a part of the Arizona Fall Prevention Coalition since its inception in 2008. September marks the 2013-2014 Still Standing Fall Prevention Outreach and it is projected that 300 participants throughout the Phoenix-metro area will enroll in classes.