Gold medal expertise: Q&A with Dr. Sheri Walters
Posted: July 11, 2018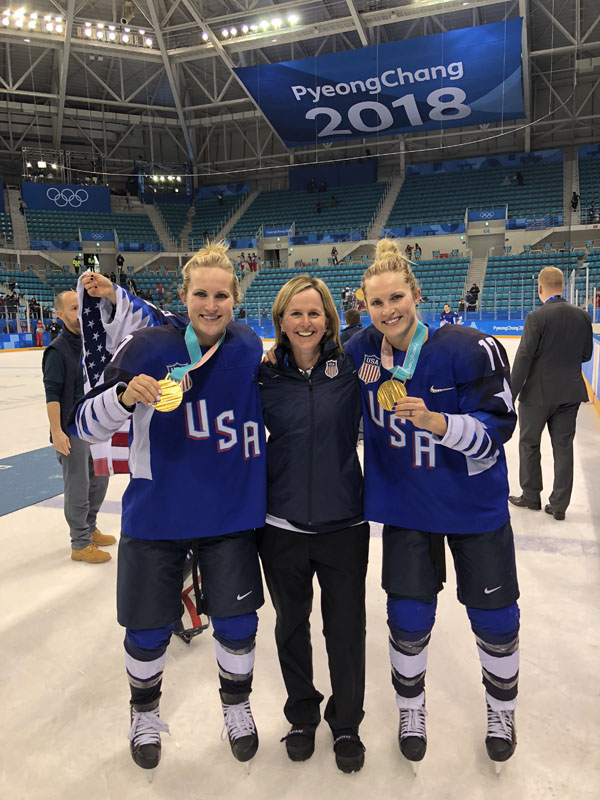 Dr. Walters celebrates with twins Monique Lamoureux-Morando (left), who scored the equalizer that sent the game into overtime, and Jocelyne Lamoureux-Davidson (right), who scored the gamewinning goal.
Sheri Walters, PT, PhD(c), DPT, SCS, ATC/L, CSCS, is an assistant professor of kinesiology at ATSU-CGHS. She's also an athletic trainer for U.S. Women's Hockey, gold medal winners at the 2018 Winter Olympics. Here, Dr. Walters describes her experience in Pyeongchang and her team's thrilling 3-2 win over Canada.
Tell us about your role with U.S. Women's Hockey.
"My official title is athletic trainer, but I believe I was brought on because of my background in performance physical therapy at EXOS – Athletes' Performance. I also have experience with long-term rehab and corrective exercise programs to help reduce injury risk and enhance performance."
How did you get connected with the team?
"I have worked with U.S. Paralympics Track and Field since 2011. One of the team physicians told me about an opportunity to move into residency with the team in the lead up to the games. She suggested I apply. I interviewed with the director of women's hockey, and she invited me to some camps for a trial run. I was then named to the 2017 World Championship team that defeated Canada for the gold. This was after the women boycotted USA Hockey to obtain equitable funding and treatment."
What is most exciting about working with Olympic athletes?
"The most exciting part of working with this team has been watching them put in so much effort day in and day out, on and off the ice, to achieve their goal of winning an Olympic gold medal (six members of this team have two silver medals), and to grow the game of women's hockey. I have had the opportunity to work with many professional, elite, and Olympic athletes in my career. This team, as a whole, is unparalleled, in terms of their team-first mindset. They lift each other up daily. They help their staff daily. For example, I have never had so many athletes offer to carry my bags, or just take them without asking. They are great athletes, but they are even better people. That is what has made this experience so fun and rewarding."
How did it feel to watch your team win the final game?
"It's hard to describe. I have never been so nervous, but at the same time, there was a sense of calm on the bench like, 'We got this.' Coming out of the locker room before overtime, one of the players made a joke, thanking one of the coaches for a conditioning drill from residency. That made everyone laugh. The U.S. then dominated overtime, even though they didn't score. Going into the shootout, Maddie Rooney, the goalie, was smiling. She was very relaxed. When Jocelyne Lamoureux went out to take her shot, you could just see it in her eyes. I've seen the Lamoureux twins practice those shots countless times after practice. The whole bench just felt this was their time."
Does your experience working with Olympic athletes carry over into your teaching?
"As a clinician, I treat all my clients the same, whether they are elite athletes or weekend warriors. What carries over to my teaching from these experiences is the knowledge gained from the clinicians I meet all over the world. On a daily basis, I get to work closely with and learn from other U.S. medical professionals. Together, we travel and meet medical professionals from all over the world and grow from those experiences. This knowledge, and the network built from these experiences, are all brought back to my work at ATSU."
What advice would you give someone who is thinking about following your career path?
"In my experience, to get offered these opportunities, you need to have both a growth and team mindset. You have to be open to new ideas and to learning and working with others. While I'm a licensed healthcare professional and certified in many different areas, I still carry bags, help load and unload the bus, take out trash, and do laundry. It's just part of it. Countries and teams are limited in the number of people who can live in the Olympic Village and have access to the venues, so everyone has to help. Ultimately, it's about the athletes and whatever it takes for them to perform their best."