Sandra Suarez and Michelle Mueller: Friends in the field
Posted: September 21, 2021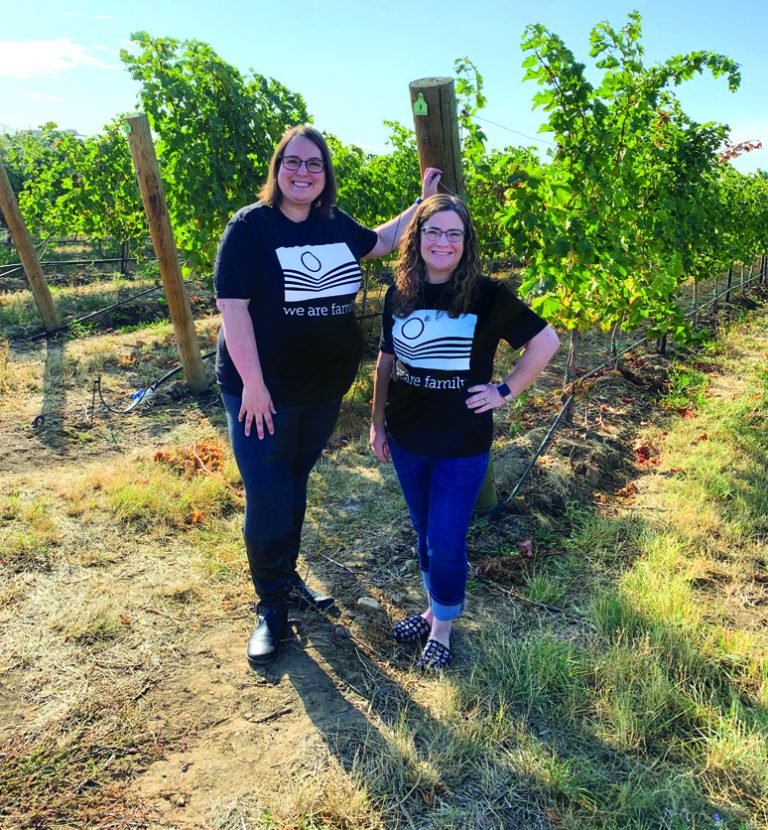 Sandra Suarez, MHA, '16, and Michelle Mueller, MHA, '14, have formed a one-of-a-kind friendship. They first met as students in ATSU-CGHS' online Master of Health Administration (MHA) program. Online students rarely meet face to face, but a series of in-person learning opportunities led them to team up for the benefit of healthier communities.
Originally a teacher in northern California, Mueller was looking for a new career path because of limited job opportunities. She enrolled in the MHA program on a whim after a friend told her about the great experience he had in the program. Pursuing a degree in the healthcare field, where professionals are in high demand, seemed like a wise choice.
In contrast to Mueller, Suarez had been working at a federally qualified health center in rural Washington state for several years, starting as an executive assistant and moving up into managerial and director roles. When Suarez began looking for master's programs, she already had exposure to ATSU through the dental students who rotated at her clinic. Her beliefs aligned with the University's mission and osteopathic philosophy. Being from a rural area, she liked the emphasis on improving access to care in underserved areas.
Mueller and Suarez soon found themselves in the mix of students at ATSU-CGHS' 2013 Residential Learning Institute in Mesa, Arizona. Classmates spent each full day together – for projects, meals, meetings, and even group chats after hours. During the course of the institute, a camaraderie began to build among students, and Suarez and Mueller became friends.
"It was helpful to have friendships within the healthcare field because I didn't have a healthcare background prior to this program," Mueller says. "Hearing about their real-life experiences and knowledge helped guide me."
The next year, Mueller and Suarez were excited to see each other again at another Residential Learning Institute. Their friendship didn't skip a beat, and through social media, they remained in contact with each other. During the course of earning her MHA degree, Suarez paused her education to take advantage of a new career opportunity. She left her not-for-profit healthcare system to work in operations and clinic management at a for-profit hospital. A year later, the Yakima Valley Farm Workers Clinic came calling.
"I weighed the pros and cons, and I found the administrative side of healthcare is where my heart belonged," says Suarez, who joined the Toppenish, Washington, clinic as manager of planning & development.
In 2015, Suarez and Mueller crossed paths again. Mueller had completed her degree and was applying to various openings, including a fellowship at Yakima Valley Farm Workers Clinic. Knowing Suarez lived in the area, Mueller contacted her to ask if she was familiar with the clinic, and Suarez told her she had just taken a job there.
When Mueller's application for the fellowship didn't make the final cut, her resume was passed along to other hiring managers and ended up on Suarez's desk. Suarez then encouraged Mueller to apply for a planning and development associate position within her department.
"She still had to go through the competitive interview process, but I knew what kind of education she had," Suarez says. "I also knew she could research and write based on our work in groups and in other classes together."
Although it didn't feel like it at the time, Mueller described not getting the fellowship as a "blessing in disguise." She was offered the position in Suarez's department and accepted it without hesitation. Without ever having visited the Yakima area, Mueller and her husband took a chance and moved their family of four and a multitude of animals to their new home.
Today, the classmates-turned-colleagues work together at the clinic successfully writing grant applications and growing the organization. As a community/migrant health center, Yakima Valley Farm Workers Clinic provides care for underserved communities through 25 medical, 14 dental, and 53 program locations in Washington and Oregon. Since joining the clinic, Mueller has written applications to add several new sites and mobile units and support several programs. Additionally, she has been promoted to a level-two associate.
"Even though I'm sitting here writing, there are patients benefiting from the work I'm doing," Mueller says. "Everything we do is so important."
Suarez, now the senior manager, especially takes their work personally. Coming from a family of migrant seasonal agricultural workers, she says community health centers have saved her family from poverty. In 2020 alone, the clinic served more than 171,000 patients, 91% of whom lived at or below 200% of the federal poverty level.
"We're here to help and protect people with backgrounds like mine, and that will always be important to me," Suarez says. "If it wasn't for organizations like this clinic, who knows where I would be right now."
In addition to improving access to healthcare for vulnerable populations, the duo's favorite aspect of working together is maintaining their friendship. They support each other and communicate openly. Suarez cares about Mueller's professional growth and is able to push her appropriately. Simultaneously, Mueller knows Suarez wants her to be successful and has her best interests at heart.
"I'm happy where I am right now, and I have learned so much," Mueller says. "Going forward, wherever my career path leads, this is a really great foundation."