Fourth annual DHSc Winter Institute inspires
Posted: February 15, 2013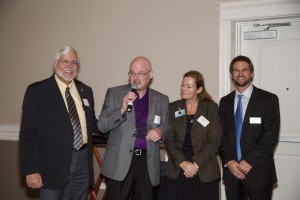 ATSU's Doctor of Health Sciences (DHSc) program held its fourth annual Winter Institute, "Minding, Mending, and Moving Health Forward," on Feb. 4-8. The DHSc program comprises approximately 250 students, representing more than 35 health profession disciplines.
The Winter Institute brought 75 students and nearly 20 alumni and faculty to campus to promote health. This diverse and collaborative group met to discuss and present unique health promotion initiatives. The highlights of the week were the collaborative networking and interprofessional learning that occurred through a variety of educational activities.
Tom DiDonna, DHSc, '10, was awarded the Humanitarian of the Year award by Randy Danielsen, PhD, PA-C, DFAAPA, dean, Arizona School of Health Sciences, and Eric Sauers, PhD, ATC, FNATA, chair, Interdisciplinary Health Sciences, at a reception hosted by Alumni Services. Dr. DiDonna completed an Applied Research Project with the DHSc program that focused on developing and delivering an educational program in Africa to teach local health practitioners how to care for infants post-operatively. He has since continued to train healthcare providers throughout the world to better manage the respiratory status of post-op children, which has directly resulted in reducing mortality rates by reducing post-op complications.
"We are very proud of Dr. DiDonna for all his humanitarian and international work and literally applying what he learned at ATSU to influence the outcomes in global health," said Dr. Danielsen.
"The Winter Institute was a huge success, and as always we were very impressed by the caliber of the student presentations, the week-long professional and supportive engagement, and the enthusiasm to improve health for all," said Helen Ewing, DHSc, RN, director, DHSc program. "Our students are the foundation of the DHSc program, and it is apparent we are well represented to be the leaders and change agents for healthcare."
Student comments shared about the Winter Institute
"I wanted to take a moment to tell my classmates that it was a pleasure meeting all of them. Moreover, I have to admit that, because I've attended many symposiums, I had expectations; but this week exceeded everything that I had in mind.  Everything from the food, to having an IT person with enough patience to deal with all of us, was superb. The administration and faculty managed to make numerous people with different backgrounds, experiences, and locations feel like we are part of the ATSU institution, and this is very hard to achieve when all of us are online students. The organization was flawless! I will cherish this experience, and I will also take some of the little details (for when it's my turn to organize this type of activity) that made this a great week. A huge thank you to all the professors and administration personnel for being perfectionists!" (Leonor Velez-Climent)
"I would like to thank Dr. Ewing, the ATSU faculty, the support staff, and all my classmates for a memorable week at the Winter Institute. I appreciate the extensive time and effort required to coordinate this event.  I found the Winter Institute to be the perfect opportunity to network and get to know my classmates/professors, and to share ideas/knowledge in a positive and supportive context.  The experience was memorable and valuable." (Justin Rousse)