Founding college of osteopathic medicine, ATSU-KCOM, celebrates class of 2022
Posted: May 21, 2022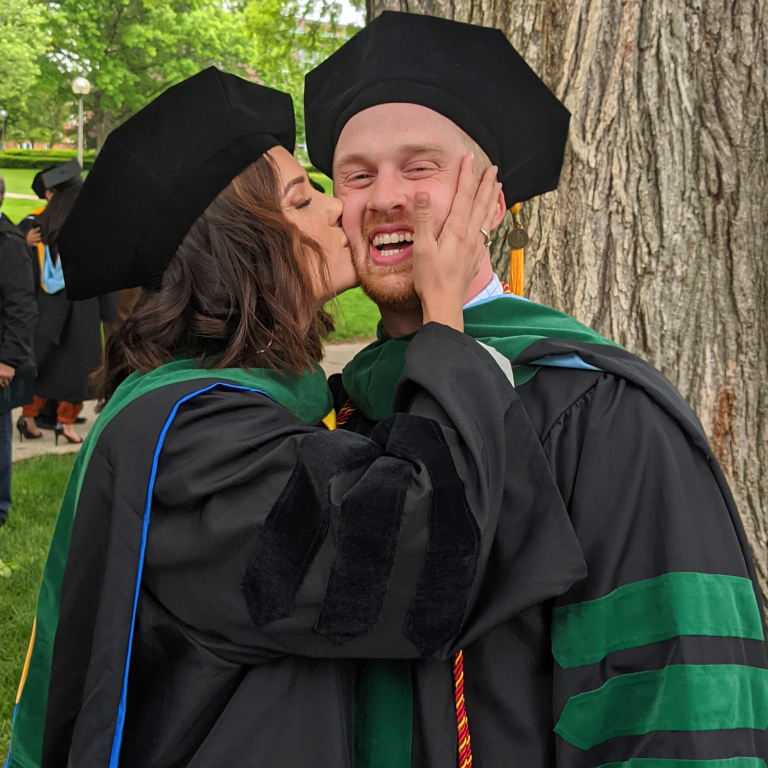 A.T. Still University's Kirksville College of Osteopathic Medicine (ATSU-KCOM) celebrated 173 students becoming doctors of osteopathic medicine in the class of 2022 during a commencement ceremony Saturday, May 21, 2022, in Kirksville, Missouri.
Two of those students earned additional degrees, one a master of public health degree, and one a master of health administration degree from ATSU's College of Graduate Health Studies. Additionally, nine students graduated with degrees from ATSU-KCOM's master of science in biomedical sciences program. 
ATSU-KCOM Dean Margaret Wilson, DO, '82, praised graduates for the strength they've shown, particularly through the challenges of COVID-19.
"Graduates, you are now ready to move into the next phase of your career. Your education has prepared you well to provide the best possible care to your patients," Dr. Wilson said. "You will be sought after for your expertise and what you have to offer. You have learned not just the skills and knowledge to be a competent osteopathic physician, but you have cultivated the compassion and empathy to make you a trusted healer."
The commencement address was delivered by Barbara Ross-Lee, DO, FACOFP, president, American Osteopathic Foundation, president, Maryland College of Osteopathic Medicine at Morgan State University (proposed).
Dr. Ross-Lee is the first African American woman to serve as dean of a U.S. medical school (Ohio University Heritage College of Osteopathic Medicine, 1993-2001). She is also the first osteopathic physician to participate in the Robert Wood Johnson Health Policy Fellowship. Dr. Ross-Lee served as a commissioned officer, U.S. Naval Reserves Medical Corps, achieving the rank of captain. She is the recipient of eight honorary degrees and many national awards. Most recently, the Accreditation Council for Graduate Medical Education Annual Diversity and Inclusion Award was named the Barbara Ross-Lee, DO Diversity, Equity, and Inclusion Award in her honor.
ATSU President Craig Phelps, DO, '84, presented Dr. Ross-Lee with an honorary doctor of osteopathy in education degree in recognition of her distinguished career and service to the profession.
Dr. Ross-Lee discussed expectations graduates will find placed upon them by their families, friends, colleagues, communities, and more, and listed her own expectations for the class of 2022.
"I expect you to be good. Do the best you can do and be the absolute best you can be. Somebody's life may depend upon that. Be wise. Use your education, but don't abandon common sense. Employ good judgment based on the knowledge and skills you have attained. Continue to learn, because 'status quo' is a formula for mediocrity, and no one here aspires to be mediocre," Dr. Ross-Lee said. "Be proud. Osteopathic medicine has succeeded against all odds to contribute value to healthcare. Each of you must be confident the contributions you will make to the health of this nation as an osteopathic physician are distinctive and important, because they are. Be visionary. Change has been described as the only constant. Nowhere is change occurring more quickly and is more evident than in healthcare. Be a change agent and contribute to the change that will make things better for the populations you will serve in the profession you represent.
"I am sure you will meet or surpass all of these expectations because your school chose you and educated you to be a member of the proud and distinctive profession of osteopathic medicine. You are this profession's future. Enhance it and guard it well, because we bring an important and valuable perspective to healthcare. American medicine would be diminished without osteopathic medicine."
In a greeting from ATSU's Board of Trustees, Jonathan Cleaver, DO, FAOCD, FAAD, FASMS, '08, member, reminded graduates what distinguishes them from others in the medical profession.
"Our students and faculty are part of a distinguished heritage emphasizing whole person healthcare," Dr. Cleaver said. "This approach begins with a belief in the interactions of the body, mind, and spirit, and it continues with an understanding of how these dimensions may be treated as one."
Providing closing remarks, Dr. Phelps pointed graduates to the "Oath to the Profession" and a particular section he hopes they each hold close in their careers.
"The phrasing which always strikes me is 'patient and friend.' You will develop many incredible friendships, not only with your fellow physicians and in your community, but with those folks who come to you when they are most vulnerable," Dr. Phelps said. "In return, many wonderful things will happen for you out in your community because you treated them not as a patient, but as a friend."