Forging a new path
Posted: December 7, 2017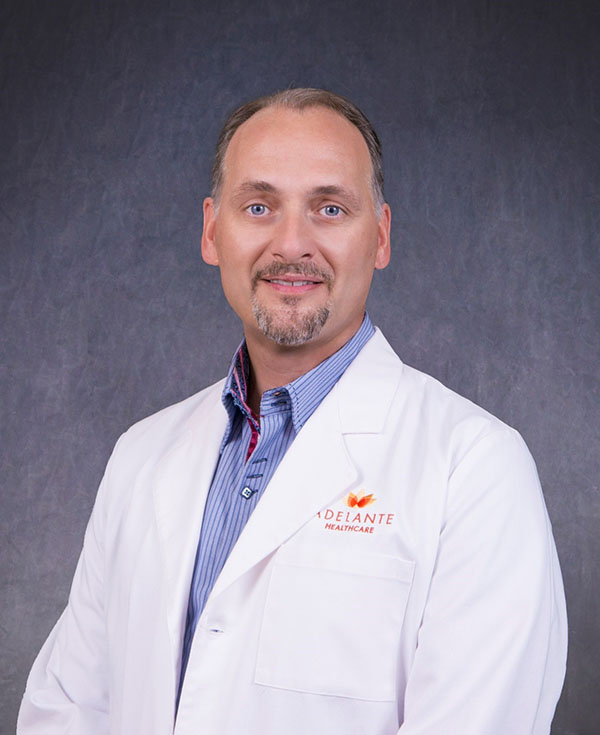 Now a psychiatrist for Adelante Healthcare, Dr. McClure was the oldest person in his class when he graduated from ATSU-SOMA in 2013.
Before he became a physician, Danny McClure, DO, '13, inspired by his Christian faith, took a medical mission trip to Cambodia. While abroad, he was amazed by the care his group was able to deliver. If he could develop his medical skills and become a doctor, it'd be a way to address the great need he saw in the world.
There was only one problem. Dr. McClure, a middle-aged man with a wife and two kids, was much too old, and far too busy, to earn a medical degree. Or so he thought.
After wrestling with the idea for several months, Dr. McClure decided to take a leap of faith. If this was what God had in store for his life, he was ready to do it.
He researched potential programs, eventually landing on the osteopathic physician's tripartite treatment of body, mind, and spirit, as opposed to a narrow focus on just one facet of wellness. It was a philosophy of care to which he had been introduced by a friendly DO in Alabama, Dr. McClure's home state, and one that presented him multiple tools to treat a patient.
ATSU-SOMA, specifically, stood out. The School was a place where he felt he could be part of a family. The choice just made sense.
During school, Dr. McClure managed to carve out quality time. Each night, the house shared a family dinner, and one Saturday a month was set aside for family trips. Abiding by this schedule helped him maintain a healthy balance between family life and the rigors of medical school, a worry he faced before enrolling.
Dr. McClure, 42 years old on the first day of class, was the eldest member of his cohort. But rather than being a barrier, his seniority endeared him to the other students. He was able to offer guidance as they struggled with life's difficulties. In the midst of coursework, he also helped lead a booming Bible study — nearly 40 of his classmates participated.
It was almost like being a surrogate parent, he says.
After graduation, Dr. McClure became a psychiatrist with Adelante Healthcare in Peoria, Arizona. With this work, he found an underserved population he could help, right here at home. The patients Dr. McClure treats are often forgotten and overlooked, he says, and there's a prevailing stigma associated with mental illness.
"But I see patients get better," he adds, voice tinged with compassion.
As an osteopathic physician, Dr. McClure now has the tools necessary to help those who need it most. He takes great pride in this service, but remains humbled by his life's new direction and indebted to the school that helped him along the way.
"I appreciate what ATSU-SOMA has done to help me live out my passion," Dr. McClure says. "I don't think I'd be where I am, with the passion and joy I have for what I do, if I had gone to another medical school."