For the love of community
Posted: December 9, 2017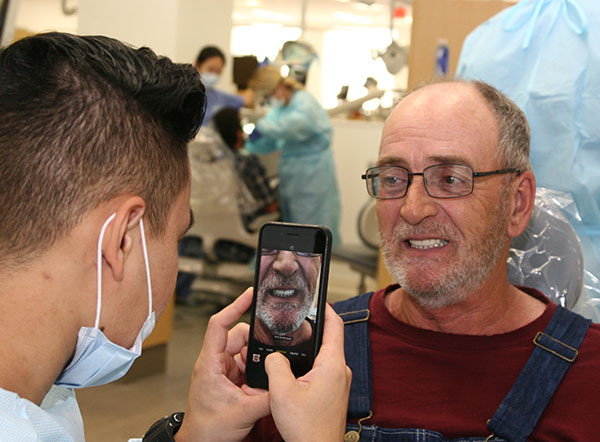 Peter Le photographs Air Force veteran Patrick Stender's new dentures.
To celebrate its 125th anniversary, ATSU is doing what it does best – educating its students while serving its communities.
ATSU is giving back to its communities in honor of its 125th anniversary. Throughout the 2017-18 academic year, faculty, staff, and students are teaming up to address specific needs in their communities through service projects. Each college and school chose its own project and was granted funding from the University to carry out its initiative.
While some service projects are scheduled for later in the year, others are already underway. Still Magazine takes a closer look at the projects in progress this fall.
ATSU-KCOM: Mental health awareness and outreach
Mental health has become a prevalent concern, particularly in medical education and healthcare. While the topic has gained momentum as a national discussion, it remains a difficult conversation. Mental health encompasses a range of issues including anxiety, depression, psychosis, behavior problems, and suicide. According to American Foundation for Suicide Prevention, 300-400 physicians die by suicide each year.
Kirksville, Missouri, has seen its share of tragedies associated with mental health issues in recent years. Because of these events, ATSU-KCOM is working to erase the stigma while promoting awareness and resources. Two and a half years ago, following a student's suicide that sent shockwaves through the College, Dean Margaret Wilson, DO, '82, established the Student Mental Well-being Task Force. Comprised of faculty, staff, and students, the task force's purpose is to prevent mental health issues by creating a better, more supportive environment for students dealing with the pressures of medical school and helping them transition successfully into practice.
"Mental health is a problem for physicians, teachers, students, patients, community members," Dr. Wilson says. "It's everybody's issue."
When funding became available for a service project, Dr. Wilson immediately chose mental health awareness as a way to expand on current efforts and effect change throughout the area. Hoping to create sustainable community benefits, she brought in ATSU's mental health wellness counselor, Sarah Thomas, MSW, LCSW. Together, they designed a three-pronged approach targeting local school districts, Truman State University, and area healthcare workers.
First, ATSU-KCOM teamed up with Preferred Family Healthcare, a local behavioral health organization, to offer Mental Health First Aid courses to area teachers. In the Kirksville R-III School District, the project's goal is to have 90 teachers and staff members trained by the end of the academic year. So far, 30 have completed the training.
"Mental Health First Aid doesn't make them counselors or psychiatrists; it gives them the tools to support a person in need," says Thomas.
Thomas offers Mental Health First Aid courses on the Missouri campus for ATSU faculty, staff, and students. The courses, which are part of the University's emphasis on health and well-being, focus on all aspects of mental health. The responses from participants have been resoundingly positive.
"Mental Health First Aid was a great training and provided numerous tools I have since used in my medical career and in everyday life," says Sheyann Kirby, OMS III. "Similar to CPR training, it has been a great resource to reflect upon when encountering a crisis."
In addition to providing Mental Health First Aid to local teachers, Thomas hit the streets to reach families. She walked with ATSU students and staff in the Kirksville High School and Truman State University Homecoming parades, literally putting mental health information and resources in the hands of community members.
Second, the project aims to partner with Truman State University and its counseling program to recognize and prevent mental health issues among undergraduate students and within the community. Dr. Wilson and Thomas hope the partnership will create educational opportunities, including dynamic guest speakers, health fairs involving students from high school through medical school, and other special activities.
Third, Dr. Wilson and Thomas are planning to hold a workshop for nurses, residents, mental health professionals, physicians, and other frontline health providers. The workshop will aid local healthcare workers in addressing their patients' mental health. By integrating ATSU's body, mind, and spirit philosophy, the workshop will also encourage healthy strategies for caring for their own mental health and well-being as providers.
"I want to be the pebble that causes a ripple," says Dr. Wilson. "We can make a difference."
Ultimately, ATSU-KCOM is calling mental health issues out of the shadows. The College and its partners are increasing community awareness and engaging people of all ages and professional levels. By arming community members with training and resources, the mental health awareness project is laying the groundwork for a happier, healthier community.
ATSU-CGHS: Corbin's Legacy Back-to-School Health Fair
For its 125th anniversary service project, ATSU-CGHS chose to help children and families in need. The College's Master of Public Health program collaborated with its service partner, Corbin's Legacy. The mission of Corbin's Legacy is "to continue Corbin's work by assuring that no elementary school child goes without lunch, or is embarrassed, because their account is too low or depleted." It is also "assisting elementary school children with basic school and healthcare needs that they otherwise would not have." Together, they organized a Back-to-School Health Fair for children from Title I schools in the Phoenix area.
On Wednesday, Sept. 27, ATSU-CGHS hosted 200 elementary children on the Mesa, Arizona, campus. The College teamed up with ATSU-ASDOH, ATSU-ASHS, and ATSU-SOMA to provide free health, hearing, vision, and dental screenings for third- through fifth-graders. Corbin's Legacy paid transportation costs. Additionally, Corbin's Legacy will assist any child who needs follow-up care, such as glasses or prescriptions.
"This follow-up will fill a common gap between screenings and care," says Mary-Katherine Smith McNatt, DrPH, chair of ATSU's Master of Public Health program and coordinator of the event. "We are thrilled to partner with Corbin's Legacy to provide important health screenings and school necessities for children in need."
During the event, children rotated through stations and various health screenings, as well as games like bowling and hopscotch. They received toothbrushes, toothpaste, and floss on top of gift cards for food and school uniforms. They also enjoyed a hot lunch at Straight A Café. In addition, teachers received giveaways, courtesy of Treasures 4 Teachers.
Approximately 100 faculty, staff, and students from ATSU and several community members volunteered to deliver this interprofessional fair. ATSU students performed all screenings under faculty supervision.
Many children who participated in the event were uninsured or underinsured. Without this project, they would not have received critical health screenings. By addressing their basic needs, ATSU-CGHS and Corbin's Legacy are helping these children in and out of the classroom.
"Not only does the partnership create meaningful learning opportunities for ATSU students, it prepares children for a healthy, happy, successful school year," says Dr. Smith McNatt. "We plan to continue the partnership and hold the event annually."
ATSU-MOSDOH: Dentures for veterans
Saturday, Sept. 23, marked completion of the first phase of ATSU-MOSDOH's Dentures for Veterans project. Student and faculty volunteers delivered full upper and lower dentures to five U.S. military veterans at the St. Louis Dental Education and Oral Health Center. As the first group of veterans received dentures, a second group of veterans started the process.
The School's service project evolved out of volunteer mission trips to Dexter, Missouri. During these dental missions, patients with limited access to oral health services received care through Smiles of Hope Dental Clinic. ATSU-MOSDOH's Herbert Silva, DMD, assistant professor and comprehensive care unit director, soon realized veterans made up a considerable portion of patients in need.
With funding available for a service project, ATSU-MOSDOH Dean Dwight McLeod, DDS, MS, championed the initiative to continue helping veterans by providing dentures and follow-up care free of charge. The denture process takes about eight weeks to complete, so the School divided veterans into groups and is completing its project in phases. Each veteran is treated by a team comprised of a third- and fourth-year student, with faculty supervision. During the first phase, each team included one student who served in the military.
"You gave me my smile back," says 20-year Army veteran Jimmy Comstock, hugging his student dentists. "You gave me my dignity back."
To provide free dentures, which can cost at least $3,000, ATSU-MOSDOH joined forces with Affinia Healthcare, Smiles of Hope, and Dental Arts Laboratories Inc. (DAL) in Davenport, Iowa. Affinia Healthcare provides administrative support during veterans' visits to the St. Louis Dental Center. Smiles of Hope, a ministry of the Lighthouse Church of Dexter, Missouri, covers the veterans' travel expenses. DAL waived laboratory fees for the first six denture cases and adjusted fees for all remaining cases.
Dr. Silva, a former Marine officer, is serving as the project facilitator and is working closely with Vice Dean Poonam Jain, BDS, MS, MPH, to carry out the project. Dr. Silva is helping identify veterans for the project and is coordinating the volunteer student teams and faculty members who supervise and mentor the students. The volunteer faculty members include Michael Abels, DDS; David Greaves, DDS; Matthew Greaves, DDS; Emilio Jiminez Colon, DMD; Gerard Krueger, DDS, MS, FACP; Marzban Patel, DDS; Joseph Shea, DDS; and Eric von Hoven, DMD.
"Our partners and volunteers are helping provide a needed service," says Dr. Silva, who is working to identify Kirksville-area partners to continue providing dentures for veterans.
For these veterans, the opportunity for dentures was serendipitous. Patrick Stender, an Air Force veteran, had fallen on tough financial times, and unfortunately getting new dentures was not a  priority. He had worn the same dentures for 17 years, although most dentures last eight years. The old dentures had been dropped and broken multiple times, and each time, he superglued them back together.
"This was a huge blessing for me," says Stender, who was treated by Shaughn McCormick, D3, and Navy veteran Peter Le, D4. "It couldn't have come at a better time."
Comstock was also in desperate need of new dentures. He had the same set for more than 20 years, and the teeth were completely worn out. He couldn't remember the last time he smiled or felt comfortable showing his teeth, but Lauren Kessinger, D3, and Air Force veteran Michael Love, D4, helped bring back his smile.
"My experience has been fantastic," says Comstock. "When I smile now, people will notice it."
Stender, Comstock, and the other veterans laud their time with the ATSU-MOSDOH students and faculty. However, the veterans are not the only ones benefiting from the project. The students are
enjoying the camaraderie with former service members while gaining experience with denture cases.
"I am a veteran, so it's awesome to share this experience with other veterans," says Love, a former communications officer. "This opportunity also allows students who aren't veterans to hear stories and learn about what these folks have been through."
ATSU-MOSDOH completed the second phase of its service project on Saturday, Nov. 4, when the second group of veterans received dentures. Also on that day, a third group with seven cases started the process. Their dentures are scheduled for delivery on Dec. 14, just in time for the holidays.
A small army of dedicated volunteers is making this project a success. According to Dr. Silva, all faculty, students, and staff were eager to contribute their time and efforts. For him and the other faculty members, it has been satisfying to watch this special project come together.
"We used to say, 'The best medal is a live man's smile,'" says Dr. Silva, regarding his time in the military. "This project has worked to provide the 'smile' for real."
ATSU has turned its anniversary into an opportunity to show some love to its communities. Community health is a key component of the University's mission. While community needs are many,  ATSU and its partners are taking important steps to make positive, long-term change. Through mental health awareness, health fairs, dentures for veterans, and more, each project will provide a significant service to those in need.
Look for more ATSU community project updates in Still Magazine's spring/summer 2018 issue!