Fit for renovation
Posted: October 26, 2018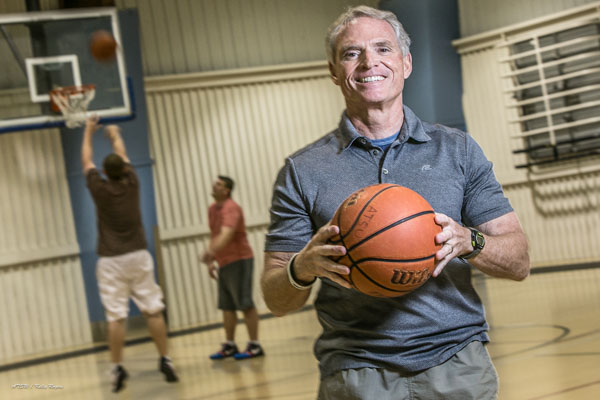 To recognize and honor the TCC's longtime director, ATSU launched the Dan Martin Court campaign to renovate the existing basketball court area.
ATSU upgrades fitness facility, honors longtime director
The Thompson Campus Center (TCC) has been a fixture on ATSU's Kirksville, Missouri, campus for more than 35 years. Students, faculty, and staff have come to the center to burn stress, improve fitness, and embrace a healthy lifestyle.
At the time it was built, the TCC was a first-rate fitness facility. Over the years, as ATSU's Missouri campus community grew, so did the TCC's annual membership. The traditional basketball court, free weights, fitness equipment, whirlpool and sauna, and racquetball courts were supplemented with specialized cardio equipment, a climbing wall, and other minimal cosmetic updates.
The "gym" concept and desired fitness amenities expected by today's students have changed. To meet an increasing demand for current fitness services, the TCC started a renovation to enhance its members' experiences. Providing ample, high-quality fitness opportunities aligns with the University's whole person healthcare priority.
The three-phase renovation began nearly five years ago. First, the upstairs level was remodeled to allow more room for weight equipment and cardio machines. One of the racquetball courts was repurposed to create space for additional equipment. Second, the downstairs whirlpool and sauna were removed, which expanded the studio for group activity classes. In addition, a family restroom was added. Third, both locker rooms were revamped. The hallways and ceilings were updated, and new electrical, plumbing, and LED lighting were installed. In total, the facility's functional space increased from 1,200 to 4,000 square feet.
While much has changed, one person has stayed the same. Dan Martin, MA, has been a part of the TCC since its opening in 1982. As director of ATSU's wellness programs, Martin has been instrumental in implementing a wide range of health and fitness regimens. He provides direction for all fitness operations and programming on Missouri and Mesa, Arizona, campuses. His passion for health and wellness has promoted ATSU's mission of providing whole person and community healthcare. It has also inspired thousands of individuals to embrace positive lifestyle choices.
Because of Martin's influence, the TCC has become a hub for recreation, as well as a center for health and learning. While members participate in activities like basketball, indoor soccer, yoga, spin class, or circuit weight training, they are immersed in an environment that incorporates holistic wellness and maximizes potential in body, mind, and spirit.
In recognition and honor of Martin's service, the University launched a campaign to rename the basketball court as Dan Martin Court. The campaign will top off the facility's renovations by upgrading the court flooring and peripheral equipment. The initial goal of $115,000 will cover installation costs of a maple wood floor, with a total goal of $300,000 to include new basketball goal systems, volleyball net system, scoreboard, LED lighting, divider curtain, and more.
"Working out and playing basketball in the TCC kept many of us sane during those first years of medical school," says David Fife, DO, '05. "We loved the Rotator Cuff tournament and working for Dan in the TCC."
Dr. Fife and his wife, Alicia, are strong supporters of the campaign. Thanks to the Fifes and other generous donors, the initial goal has been met. With nearly $118,000 raised to date, ATSU's alumni, employees, and friends continue to push the campaign toward completion and ensure the TCC will meet campus community needs for years to come.
"Dan motivates and inspires by doing," says TCC Assistant Director Lynda Furney, MA. "He doesn't just talk healthy lifestyle, he lives it. Dan is the Thompson Campus Center!"