Family ties
Posted: December 7, 2017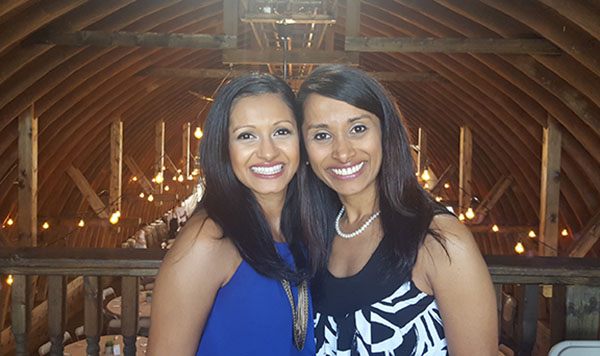 Drs. Lisa Henson (left) and Binu Philip (right) are sisters and graduates of ATSU.
Some sisters are close, and some sisters are inseparable.
Binu Philip, DO, '00, and Lisa Henson, DMD, '09, are sisters and best friends. They live down the road from each other in Eau Claire, Wisconsin. In addition, they are both graduates of ATSU's sister schools.
Drs. Philip and Henson grew up outside of Chicago, within a tight-knit healthcare family. Their physician parents had a natural influence on them, as well as their older brother. Daily, the three children witnessed their parents' commitment to their patients, family, and friends.
"Growing up, I wasn't sure anything else existed besides the health field," says Dr. Philip. "I always wanted to be a doctor."
The sisters developed the quintessential sibling relationship. As the younger sister by eight years, Dr. Henson idolized her cool older sister and wanted to be exactly like her. Her childish adoration often annoyed her big sister. But as the two grew up, they grew closer.
"I was in college when Lisa started her teen years," Dr. Philip says. "At that point, I enjoyed being the bigger sister."
While Dr. Philip was completing her undergraduate degree at the University of Illinois at Urbana-Champaign, she began applying to medical schools. She soon discovered osteopathic medicine and fell in love with the holistic philosophy.
"The mecca of osteopathic medicine is Kirksville," says Dr. Philip. "Where better to go than where it all began?"
Kirksville, Missouri, became the backdrop for some of the sisters' most pivotal life events. Two weeks into the DO program at ATSU-KCOM, Dr. Philip met her future husband, Russ Durkee, DO, '99. As Dr. Henson began planning her career in healthcare, she chose to attend Truman State University for her undergraduate degree. During her time at Truman, she met her future husband, Jeff Henson.
Based on her knowledge of ATSU and its holistic reputation, Dr. Henson also chose to attend ATSU. However, after job shadowing her brother, a dentist, she elected to pursue dentistry and enrolled at ATSU-ASDOH.
"I love the philosophy of whole person healthcare," says Dr. Henson. "There is a person attached to that tooth."
While Dr. Henson was completing her four-year program in Mesa, Arizona, Dr. Philip had finished her family medicine residency at the University of Wisconsin and was practicing in Eau Claire. Curious about her little sister's professional plans, Dr. Philip asked where she wanted to go after graduation. She was unsure, so Dr. Philip encouraged her to come to Eau Claire. In jest, Dr. Henson told her sister to find her a job. They both laughed, recognizing that practicing in the same city was unlikely.
Then one day, as fate would have it, Dr. Philip happened to learn about a local dentist who was planning to retire. She casually mentioned her sister was graduating from dental school soon and was in search of a practice. To Dr. Philip's surprise, her comment was taken into serious consideration. Shortly thereafter, the dentist met with Dr. Henson, and he thought she was a good fit for his practice.
"I don't believe in coincidence," says Dr. Philip. "I think it was meant to be this way."
Reunited in Wisconsin, the  duo has made healthcare the family business. Dr. Henson owns Regis Court Dental Associates, and her husband manages the clinic. Dr. Philip and her husband are owners of their practice, Oak Leaf Clinics-Pine Grove Family Medicine. Dr. Philip also serves as a hospice director for Heartland Hospice.
The sisters are devoted to providing compassionate, whole person healthcare in their practices. Dr. Henson recalls a patient experience early in her career that reaffirmed her holistic philosophy. At the patient's first visit, he was nervous and fearful, but Dr. Henson listened to his concerns and discussed his options. Her approach wowed the patient. He said he never had a dentist listen to him before or consider what he wanted.
"That experience set me in a direction I have to thank ATSU for," says Dr. Henson. "In our professions, we are busy, but we have to take the time to understand our patients' needs and then care for those needs while preventing disease."
"These are patients with families, with emotions, with stressors," says Dr. Philip. "I can't just look at illness; I have to look at the person."
Drs. Philip and Henson are fully committed to their community, patients, and family. Their respective practices yield hectic schedules, but they still make time for each other every week. Living six houses apart with six kids combined, their family ties are stronger than ever. Professionally, the sisters are tied together by a common thread that traces back to ATSU. Personally, they are united by the bonds of sisterhood.