Family first
Posted: July 11, 2018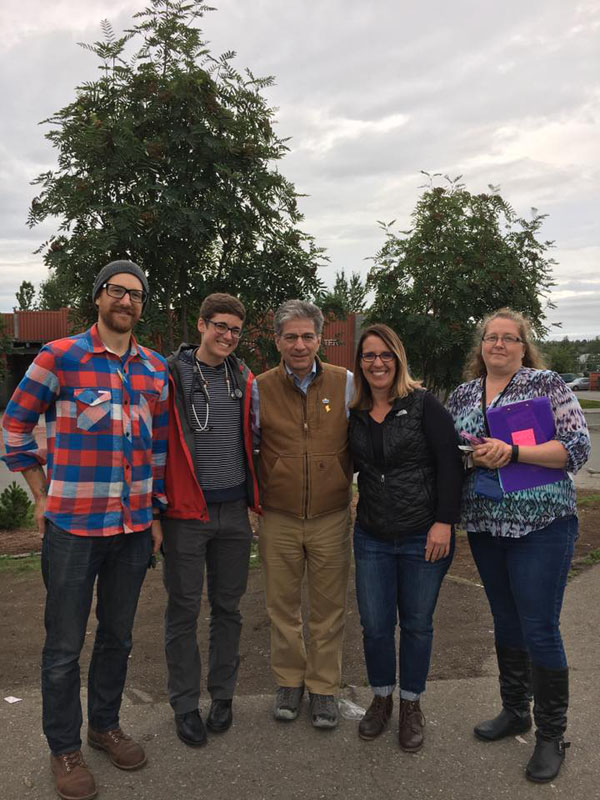 Dr. Lemaire (far left) poses for a picture with Mayor Berkowitz (center), Anchorage, Alaska, during an evening doing street medicine rounds with Alaska Family Medicine Residency.
For many people, foster care can be a challenging experience. For Timothy Lemaire, DO, '16, it was life-changing. Dr. Lemaire, a Nevada native, was raised in a home where family values were everything. His parents knew the importance of providing a happy, safe, and healthy home for their many kids.
From high school until he left for college, Dr. Lemaire's parents took in more than 80 foster children. Their house had as many as five additional children at a time. It created a relatively hectic environment, but being able to stabilize the children's lives for even a brief moment in time meant the world to the Lemaire family.
"My parents focused primarily on bringing in infants and toddlers," says Dr. Lemaire. "They took care of a lot of kids with high-level medical needs."
Dr. Lemaire's upbringing inspired him to do the same thing once he was able to start a family of his own. He cared for eight children ranging from 3-12 years old. What Dr. Lemaire saw while he cared for those children completely changed his professional outlook.
"These children had little to no medical care to begin with and very little follow-up," says Dr. Lemaire. "I took them to the same physician, and I knew what I wanted to do for the rest of my life."
At 28 years old, Dr. Lemaire went back to school full time to take the required science courses. After discovering ATSU and learning about the mission, he knew exactly where he wanted to attend medical school. Balancing class work and family was difficult at times, but he stayed focused on the idea of making a difference for his future patients.
During his time at ATSU-SOMA, Dr. Lemaire served as class president his first year and was elected to a national board position for Student Government Council his third year. He also helped revamp the rotation site process to benefit future medical students. One of Dr. Lemaire's favorite initiatives at the School was his Street Medicine Project. It centered on providing care to the homeless population in the Mesa, Arizona, area. Not only did the project provide medical care, it also provided programs that would assist with mental healthcare.
Upon graduation, Dr. Lemaire matched into a family medicine program in Anchorage, Alaska. Despite the distance from his home state, Dr. Lemaire felt as though he could have a greater influence in Alaska and help its underserved populations.
"There's such a need for medical care here," says Dr. Lemaire. "We travel from village to village providing care for people who are sometimes stranded with nowhere else to go."
Even though he's further from home than any other time in his life, Dr. Lemaire feels as though he's in the perfect place. He has always put his family first. Now, he also puts his patients first because he considers them family, too.