Fake patients foster real connections
Posted: November 1, 2017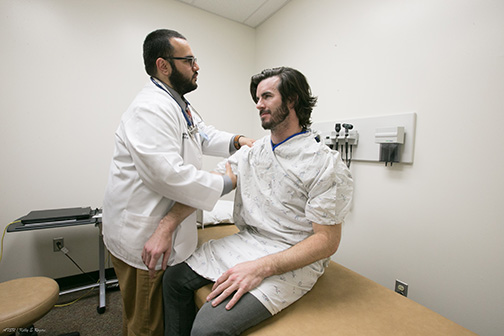 Jasser Khairallah, OMS IV, performs a patient examination.
To provide students a lifelike training environment, A.T. Still University (ATSU) employs members of the local community to serve as test patients. These participants, known as standardized patients, are trained to exhibit symptoms of various medical conditions, then offer constructive feedback on the quality of care they receive from students. This gives aspiring healthcare professionals a realistic way to master skills before fully entering the workforce.
"Students often say these encounters remind them of why they went into medicine, to help people," says Kathy Schroeder, ATSU's standardized patient coordinator.
According to Schroeder, these patient performers come from a broad array of backgrounds. Over the years, the program has employed current and former teachers, nurses, counselors, professors, engineers, beauticians, beekeepers, retail workers, farmers, taxidermists, and postal carriers – all members of the Kirksville community.
One of these standardized patients is Jessie Cragg, a part-time sales associate in downtown Kirksville. She says she's not just an actor, but an educator.
"We consider our role as standardized patients at ATSU to be both a serious commitment and an honor," Cragg says.
The standardized patient program helps the local community connect with students at ATSU. By participating, Cragg learns about and contributes to their education.
Pam Sylvara, a retired principal, is another standardized patient. According to her, the program is a vital part of students' medical education.
"They can be very book smart," she says, "but the other part of being a doctor is being able to meet patients and earn their confidence."
Sylvara notes how, over the course of several encounters, students become more adept at diagnosis and treatment. Their progress is easy to see.
Equally important is the sense of belonging the program cultivates. It's an educational experience for everyone involved.
"I'm learning something all the time, and I've made such good friends," Sylvara says. "It makes me feel like a valued member of the ATSU community."