Emphasis on providing care to underserved drew doctor of occupational therapy student to ATSU
Posted: September 7, 2023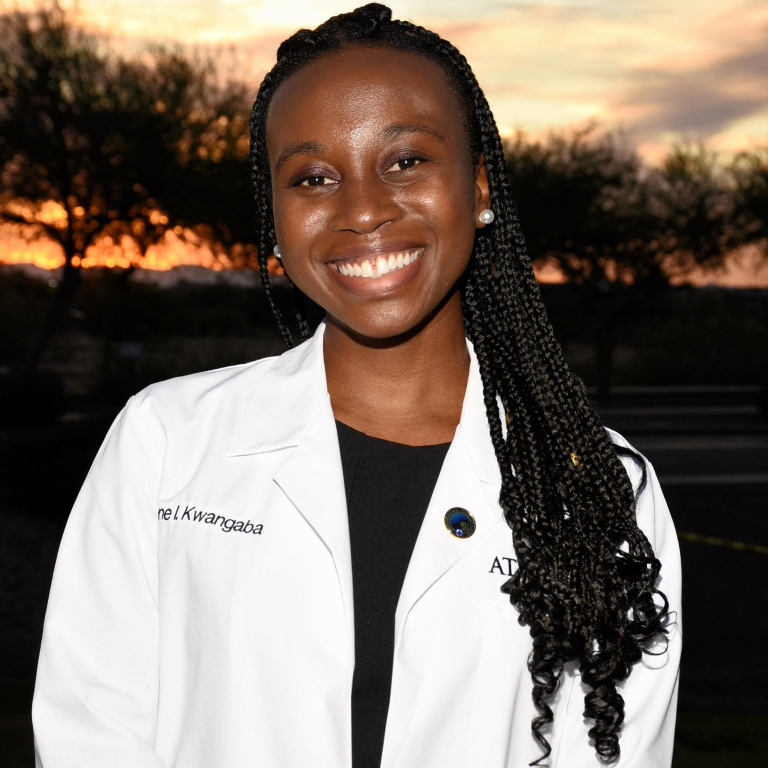 Irene Imani Kwangaba, OTD, '24
A.T. Still University-Arizona School of Health Sciences (ATSU-ASHS) Doctor of Occupational Therapy (OTD) student Irene Imani Kwangaba, OTD, '24, experienced a lack of access and opportunities in healthcare when she was growing up in San Diego. 
That's why she was first interested in ATSU, and the University's focus on serving underserved communities.
"What initially drew me to ATSU was its emphasis on whole person healthcare for all people, particularly aiming to provide holistic care to underserved populations," Kwangaba said. "I come from a background in which there are a lot of people I see in my community not having the same access, knowledge, and opportunities to holistic care. When selecting ATSU, I knew that coming here would equip me with the necessary tools and resources to make healthcare more equitable for all people as a future healthcare provider."
Kwangaba has a bachelor's of science in human development, and bachelor of arts in education studies. She is a member of the Student Occupational Therapy Association, Coalition for Occupational Therapy Advocates for Diversity (COTAD), and Black Student Association.
"I joined COTAD because I am very passionate about diversifying the field of occupational therapy and making sure that every unheard voice is amplified," Kwangaba said. "COTAD was such an empowering space for current OT students and had a plethora of connections with like-minded individuals who are passionate about justice work. COTAD celebrates all types of diversity, which has been demonstrated through some of the activities and events we've hosted such as general body meetings exploring international OT, mental health in OT, importance of pronouns, and Black History Month. We've also supported small businesses throughout the Valley and connected with other COTAD chapters in Arizona, such as Northern Arizona University, to strengthen our relationships with other OT programs."
Additionally, Kwangaba serves as a student ambassador.
"I became a student ambassador because I initially was connected with a student ambassador who was very friendly, warm, and real with me during the application process," Kwangaba said. "Her kindness and honesty helped my matriculation to the program tremendously. Thus, I wanted to be a friendly and familiar face to prospective students who may have questions about the program but may face nervousness during this journey. Being an ambassador helps to shine a light and advocate for OT, as I get to connect with so many different types of students from around the country."
Kwangaba enjoys opportunities to learn about other healthcare professions through ATSU's interdisciplinary collaborations, such as working with dental students and teaching them about proper body mechanics and ergonomics to maximize efficiency and comfortability of their work, or collaborating with physical therapy students on treatment plans to provide care to pediatric clients.
"I also enjoy being able to practice and apply our skills learned in the classroom at the OT/PT clinic alongside a professor and another OT peer for an immersive experience, providing pro bono services for the greater Phoenix community," she said.
In her free time, Kwangaba said she loves blogging, something she began during the pandemic. Her blog focuses on her graduate school journey and also talks about other aspects of life important to her.
"I also love making my own hair and skin products, listening to live music, watching DCOMs and reality TV, and exploring different places such as nice eateries or fun museums," Kwangaba said. "I also recently became a mentor for an organization called Black Girls Leadership Academy, so it has been an honor to pour some of my learned experiences and knowledge to younger Black girls aspiring to make a difference in their communities."
All of this combines to help propel Kwangaba to her future goals.
"I aspire to one day work with underserved populations such as immigrants and refugees as an occupational therapist working on important life skills that helps this population ease their transition to a new country, being as independent as possible doing occupations that are meaningful to them," she said. "ATSU is preparing me to achieve my aspirations through the opportunity to do my capstone, working with this population and this particular area of need."