Eight years in Tanzania
Posted: August 4, 2017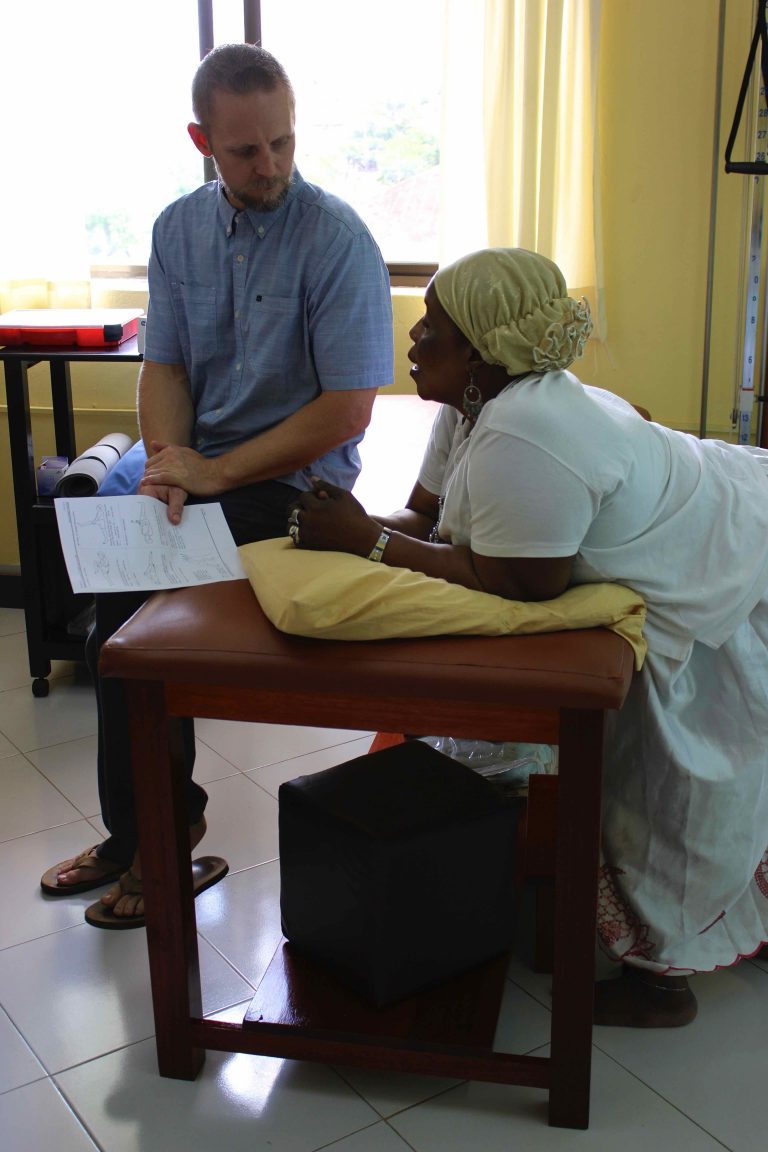 At his clinic in Tanzania, Dr. Salley helps his patients regain health and mobility.
In 2004, changes in workers' compensation legislation forced Erik Salley, PT, DPT, MA, OCS, Cert. MDT, '14, to shut down his physical therapy practice in Ontario, California. As he closed the doors to the business he worked so hard to build, Dr. Salley opened the door to another opportunity. He found himself on the other side of the world, where he embarked on one of the most challenging and rewarding experiences of his life: providing much-needed healthcare services to a rural, medically underserved community in Tanzania.
Eager to use his talents and skills to help others, Dr. Salley arrived in Tanzania in 2008 ready to get to work, but a complicated licensing process dampened his enthusiasm. It would be three years before he could legally provide care.
The red tape didn't slow him down, however. Determined to be of immediate service, Dr. Salley spent his first three years in Tanzania working in community development on projects that provided disaster relief, access to safe drinking water, school restorations, and English education.
In 2010, Dr. Salley finally received a license. However, in a twist of fate, the government did not limit his credentials to physical therapy; he was vested with an unlimited scope of practice.  Although Dr. Salley did not intend to provide medical care outside of his expertise, most patients saw him simply as "doctor." They stumbled into the clinic with every ailment imaginable.
Dr. Salley did his best to help everyone who walked through his doors, whether they suffered from typhoid, appendicitis, or a broken bone. Some problems could be treated at the clinic. For example, when patients showed symptoms of malaria, he was able to confirm the diagnosis with a rapid test and recommend medication. If a patient's condition was outside his expertise, he vetted nearby healthcare providers and offered a thoughtful, informed referral.
Using his skills as a physical therapist, Dr. Salley transformed the lives of many patients who had suffered years of crippling pain.  In particular, he recalls a young woman who traveled hours from a remote village seeking his care. She had spent the past month lying on a mat in debilitating pain. After her first visit with Dr. Salley, she was able to walk out of the clinic. She called a couple weeks later to cancel her second appointment. She was pain free after a single visit.
In some cases, Dr. Salley touched lives without even realizing it. When he directed the parents of a child with severe scoliosis to a surgical center in India, he didn't expect to hear from them again. But a few months later, they came back to see him.
"They were thankful that I had been honest, rather than charging them myself for expensive treatments that wouldn't solve the problem," says Dr. Salley.
Determined to provide his patients with the best possible care, Dr. Salley decided to continue his education from the field. He sought out a quality program with plenty of flexibility to accommodate his busy schedule. His search led  him to ATSU-ASHS' online Doctor of Physical Therapy program. In spite of the 12-hour time difference and frequent internet outages, he was able to complete the program during his last two years abroad.
Now a full-time professor of kinesiology at California Baptist University, Dr. Salley inspires the next generation of globally minded healthcare providers as the College of Health Science's coordinator of Global Health Engagement. The program connects undergraduate and graduate students with international healthcare experiences, serving students' professional goals, as well as the university's missional-living component.
In 2016, Dr. Salley was recognized as Humanitarian of the Year by ATSU-ASHS. Although he generally prefers to avoid the spotlight, he was pleased the honor brought attention to his work.
"If it does anything to sensitize Americans to the fact that we live in a pretty wonderful place and most people around the world don't have access to the same level of comfort and care, and it motivates somebody else to consider the work, then it's worth it," says Dr. Salley.
Image above: At his clinic in Tanzania, Dr. Salley helps his patients regain health and mobility.