Dream maker
Posted: July 11, 2018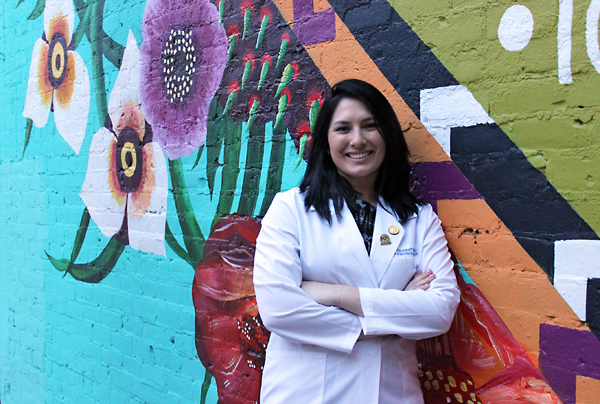 Dr. Haase is committed to increasing representation of American Indians in dentistry.
Cristin Haase, DMD, MPH, '17, grew up in a small town in North Dakota. She is of the Lakota people and a member of the Cheyenne River Sioux Tribe. Last year, she graduated from ATSU-ASDOH and became one of fewer than 300 American Indian dentists serving a population of 5.2 million.
As a tribal member, Dr. Haase is committed to serving American Indian communities. She knew from a young age she wanted to be a dentist. She also is keenly aware of the challenges American Indians face in accessing oral healthcare.
"Growing up, I started to understand the need for providers in Indian country, as well as the unique health issues that our people face, in contrast to nonnative people," she says.
Dr. Haase received a scholarship to ATSU-ASDOH from the Indian Health Service on the condition she would practice in a tribal community when she graduated. She now works as a general dentist at a tribal health facility in Chiloquin, Oregon, serving the Klamath Tribes.
Like many American Indian youth who share her aspirations, Dr. Haase faced obstacles along the path to dental school. Because so few American Indians become dentists, it is difficult for young people to find a mentor in the field. As an undergraduate student, Dr. Haase was fortunate to connect with a network of supportive leaders in the Society of American Indian Dentists through a summer dental program. This network helped her navigate the complicated process of applying to dental school.
"It's pretty rocky if you don't know the ins and outs of the application," says Dr. Haase. "Native Americans are the most underrepresented group in dentistry, by far. Most don't have parents or family members to shadow who can teach them about dentistry and guide them through the process of applying to school."
This lack of representation negatively affects the oral health of American Indian communities across the country. American Indian children are four times more likely to have tooth decay than white, non-Hispanic children, while American Indian adults experience untreated tooth decay at twice the rate of all adults in the U.S.
Dr. Haase is confident the solution to the oral health crises in American Indian communities is a greater number of American Indian dentists. Underrepresented minorities who become healthcare providers are more likely to work in underserved communities that reflect their own racial and ethnic background. In fact, underrepresented minority status is the strongest predictor that a healthcare professional will work with underserved populations.
To address the provider shortage, Dr. Haase and ATSU-ASDOH are breaking down barriers for American Indian youth considering a career in dentistry. As a second-year dental student, Dr. Haase was encouraged to apply for a Dreamstarter™ grant through Running Strong for American Indian Youth, an organization that funds community programs spearheaded by Native youth. With the support of her mentors at the University, including George Blue Spruce, DDS, MPH, assistant dean, American Indian affairs, Dr. Haase was determined to build sustainable solutions.
"The original idea was to propose a basic oral health outreach program, giving out toothbrushes to kids," says Dr. Haase. "I read the application and realized that if we really wanted to make an impact, we needed more Native dentists. Why not use the money to help students get the resources they need, so they're prepared to apply to dental school?"
The result of her proposal was the American Indian and Alaskan Native Pre-dental Admission Workshop (PAW), a three-day program designed to help undergraduate students navigate the dental school application process and expand their professional networks. PAW participants also get hands-on experience in the dental simulation lab, one-on-one time with current dental students, and a tour of the School. The University even provides the aspiring dentists with professional headshots.
Although it is not a requirement, many PAW participants plan to practice in the communities where they grew up. In addition to increasing access to quality dental care for American Indians, the program has some unintended benefits.
"We ended up educating even our faculty and staff about issues in Native American communities because we had faculty helping with the workshop," says Dr. Haase. "It also has raised awareness in my classmates and colleagues about oral health issues for Natives."
ATSU-ASDOH has hosted the workshop for three years now, funded in part by DreamstarterTM grants. Although she is no longer a student, Dr. Haase remains committed to the program. She attended this year's workshop as a presenter and mentor.
The oral health challenges facing rural American Indian communities are significant, but they are no match for the passion, energy, and talent of young dentists like Dr. Haase. She is taking matters into her own hands and creating opportunities for young American Indians dreaming of careers in dentistry.