Dr. Wilson, dean of ATSU-KCOM, receives Boy Scouts' volunteerism award
Posted: February 26, 2018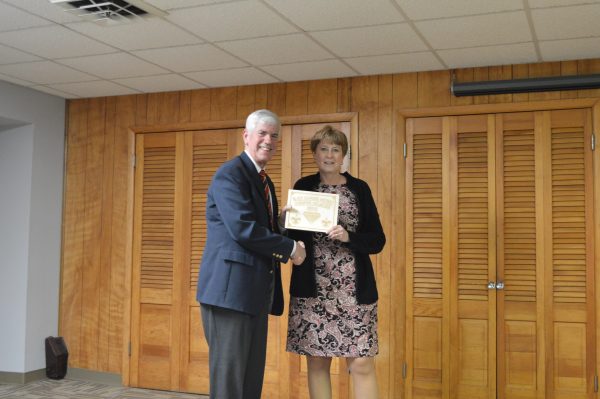 Margaret Wilson, DO, '82, dean of A.T. Still University's Kirksville College of Osteopathic Medicine, was recently honored by the local Boy Scouts' chapter with the Black Diamond District Champion Award for volunteerism. The award is presented annually to a volunteer who goes above and beyond to make Boy Scouts an incredible experience for young members. Dr. Wilson serves as chair of the Friends of Scouting Campaign, which raises money to support aspiring Scouts whose families could not otherwise afford the program.
"Dr. Wilson is truly a champion for the effort she has put into helping wherever asked, whether that means doing a radio interview, or going to KTVO at 5:30 a.m. to do an interview on Good Morning Heartland," says Scott Meredith, senior district executive. "Dr. Wilson has a wonderful scouting story that really resonates with volunteers and parents alike."
Dr. Wilson is passionate about supporting the Scouts, and was honored to receive this recognition.
"I am grateful to be able to give back to an organization that my family has been active in since I was a child," she says. "I appreciate all the volunteers who help to shape young lives."