Dr. Silverstein receives first President's Medallion Award
Posted: July 30, 2018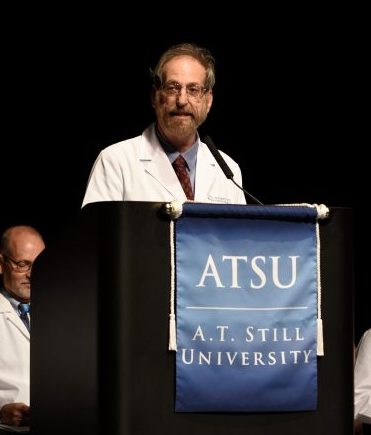 On Friday, July 13, A.T. Still University (ATSU) President Craig Phelps, DO, '84, presented the first President's Medallion Award to Irvin Silverstein, DDS, MSEd. The award recognizes a community member for outstanding service and support to ATSU. Recipients have positively impacted programs, students, faculty, and staff across the University.
"I am very honored to receive this award," says Dr. Silverstein. "The dental degree has the power to change lives, as well as public policy. There are many honorable things dentists do for people, and I hope my receiving this award serves as an inspiration to others that they, too, can make a positive impact on society, our country, and the world."
Dr. Silverstein's admirable career in dentistry includes more than 30 years of providing dental care to underserved populations. He helped to develop a special needs dentistry program at University of Southern California's county hospital and was active in the Navy's humanitarian efforts.
"Dr. Silverstein has positively impacted the lives of students, healthcare practitioners, and patients," says Dr. Phelps. "He gives freely without expecting anything in return. ATSU is honored to recognize Dr. Silverstein's contributions to making the world a better place, inclusive of all."