Dr. McQueen co-authors study on decision-making in the workplace
Posted: March 26, 2013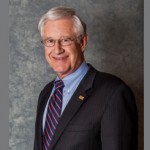 Gregory McQueen, PhD
Congratulations to Gregory McQueen, PhD, senior executive associate dean, ATSU-SOMA, who recently co-authored and published an article in the International Journal of Business Governance and Ethics.  The article is based on an analysis of women and their decision-making processes and how that translates to a company's performance metrics.
The study, which was conducted by Dr. McQueen and Chris Bart, professor of strategic management at the DeGroote School of Business at McMaster University, Canada, surveyed more than 600 board directors revealing that women are more likely to consider the rights of others and to take a cooperative approach to decision-making.
Congratulations, Dr. McQueen!
Click here to read a full synopsis.