Dr. Farris selected into Education Leadership Institute Fellowship
Posted: January 22, 2014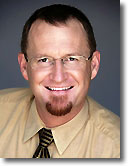 James Farris, PT, PhD, department chair, Physical Therapy program, and associate professor, has been accepted into the into the 2014-15 cohort of the American Physical Therapy Association's (APTA) Education Leadership Institute (ELI) Fellowship.
The ELI Fellowship is a shared collaborative between the Academic Council, Education Section, Physical Therapist Assistant Educators Special Interest Group, and the APTA. Participation in this program is by application and selection only.
The year-long blended learning program is designed to develop physical therapist and physical therapist assistant education program directors with leadership skills to facilitate change, think strategically, and engage in public discourse to advance the physical therapy profession.
"I hope to share the knowledge and skills learned through this fellowship with others at ATSU interested in educational administration and leadership in addition to improving my own abilities," said Dr. Farris. "I'd also like to thank Arizona School of Health Science's Dean Danielsen for his letter of support and assistance in designing a project that will be of benefit to the University – both of which were part of the application that I submitted."