Dr. Eshenaur Spolarich receives 2018 Oral Health Research Award
Posted: September 13, 2018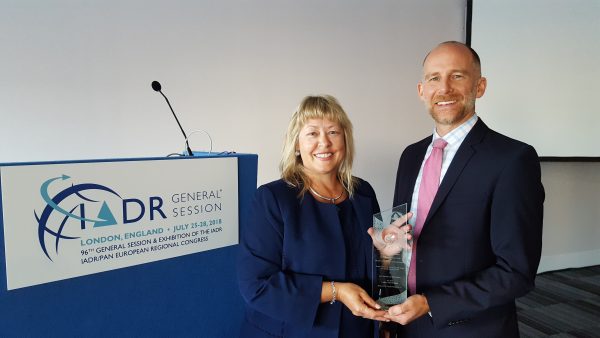 Ann Eshenaur Spolarich, PhD, RDH, FSCDH, professor and director of research at A.T. Still University's Arizona School of Dentistry & Oral Health, was recently honored by the Oral Health Research Group of the International Association for Dental Research (IADR) with the 2018 Oral Health Research Award. The award recognizes a researcher for significant contributions to the advancement of oral health. Preference is given to dental hygienists.
"[Dr. Eshenaur Spolarich] is an outstanding presenter, a respected leader among her peers, a wonderful research mentor to both students and faculty, and a generous individual devoted to advancing oral health research," said Jane Forrest, EdD, RDH, professor of clinical dentistry at University of Southern California, in a nomination letter.
Dr. Eshenaur Spolarich attended the award ceremony at the 96th general session of the IADR in London on July 26. Daniel Bachteler, PhD, director of scientific communications for Colgate Palmolive, presented the award to Dr. Spolarich on behalf of the Oral Health Research Group.
"I am incredibly honored to be recognized by my peers for my lifelong dedication to improving oral health," says Dr. Eshenaur Spolarich. "I am grateful to the many mentors that I have had along the way who have both supported and encouraged me to pursue my research career. I hope to inspire my own students to pursue their research interests in finding new ways to achieve better oral health."