Dr. Dwight McLeod honored as MDA Dentist of the Year
Posted: November 8, 2018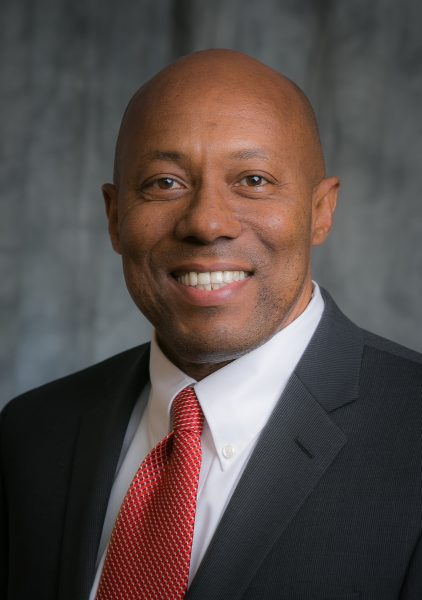 Dwight McLeod, DDS, MS, a periodontist and dean of A. T. Still University-Missouri School of Dentistry and Oral Health (ATSU-MOSDOH) was named the 2018 Missouri Dental Association (MDA) Dentist of the Year on Nov. 2, 2018, at the MDA House of Delegates.
The Dentist of the Year Award recognizes a member dentist who has demonstrated outstanding service to the Association, to the profession of dentistry and/or to the community in the past year.
Dr. McLeod's education, leadership and accomplishments are extensive, but he was lauded primarily for his role as dean of ATSU-MOSDOH, and for its success under his leadership, including full accreditation from The Commission on Dental Accreditation (CODA), which accredits dental schools and dental education programs, and classes of 2017 and 2018 graduated with first-time board pass rates of 100 percent. The School also recently received permission from CODA to expand its class size from 42 to 63 students beginning July 2019.
Dr. McLeod also sets an example in his volunteer activities to provide dental care within underserved communities. This past year, he worked to expand dentistry in the Kirksville, Missouri, community and to increase the number of sites for integrated community service partnerships with community health centers in Missouri and surrounding states. Students are involved in more than 500 "work-weeks" or 16,000 hours at external sites serving the underserved. Through the "Dentistry in the Community" outreach program at ATSU-MOSDOH, students spread oral health literacy and participate in dental screening, preventive, interceptive, and urgent dental care in at least 32 events annually. Additionally, Dr. McLeod worked collaboratively to start "Dentures for Veterans", an ATSU-MOSDOH volunteer community service project. This year Dr. Mcleod conducted a volunteer dental mission in Dexter, Missouri, and participated in his 19th annual consecutive Jamaica Dental Mission, an effort he founded in 2000. Dr. McLeod also helped extensively to make the 2018 Missouri Mission of Mercy in Kirksville successful.
Dr. McLeod received his Doctor of Dental Surgery Degree from Howard University College of Dentistry, Washington D.C. in 1990 and his Master of Science and Certificate in Periodontics from the University of Iowa School of Dentistry in 1993. In addition to being dean and professor at ATSU-MOSDOH, he was a professor, section head of periodontics, and chair of the department of Applied Dental Medicine at the Southern Illinois University School of Dental Medicine for 21 years and professor for 19 years at the Saint Louis University Center for Advanced Dental Education. He also maintains a private practice in periodontics in Hazelwood, Mo.