Dr. Drew's 5 tips on mentorship
Posted: January 25, 2016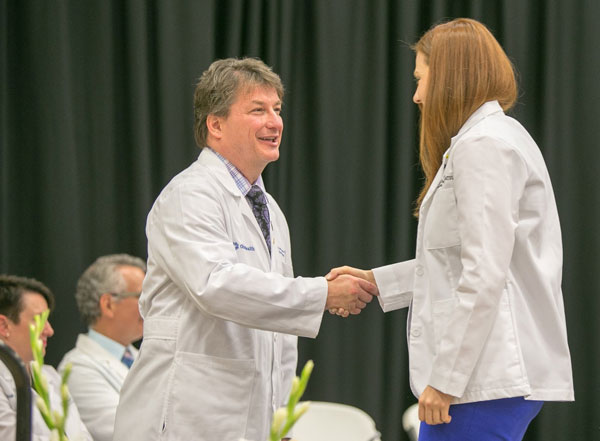 Dr. Drew loves sharing important milestones with students, such as the annual white coat ceremonies.
When ATSU Board of Trustees member G. Scott Drew, DO, FAOCD, '87, decided to make the move to Missouri for medical school, it was through the guidance of an inspirational mentor, Stephen Blood, DO, '68, who convinced him ATSU-KCOM was the right choice. In school, he gained a second mentor, Alex Macaione, DO, who frequently included Dr. Drew in family functions giving him a unique opportunity to observe a doctor at home. Then, when he was deciding the next step of his career, it was David Walker, DO, '63, who guided him into dermatology.
To Dr. Drew, mentorship signifies a lifelong journey of self-discovery and gratification. He credits his own mentors, whom he still confides in, for helping shape who he is as a healthcare provider, father, husband, friend, and mentor to medical students. As a mentor, he guided roughly 20 young doctors into dermatology and dozens of students into osteopathic medicine.
Mentorship is a commitment. It requires time, patience, and camaraderie. Here, Dr. Drew provides some tips he learned through his experiences that have helped him become a successful and well respected mentor.
1. Becoming a mentor
Be available. If a student expresses an interest in shadowing you for a day, welcome this experience. I have found most students are looking for guidance and are eager to help. The benefit of extending yourself can mean a commitment of a week, month, year, or in some cases, career.
2. Makings of a mentor
Being a mentor keeps you on your toes. These students are very bright, so you have to practice at a high level. They ask me questions not just about medicine, but all types of daily life. And they teach me things, too, like Instagram! Mentees truly have an enthusiasm about them – the carbonation to your beverage, for example.
3. Be there as often as you can
Be there as often as you can, but don't smother. Mentees should feel empowered. I'm not suggesting they perform heart surgery on their own, but incrementally increase their level of responsibility and give them positive feedback, and gradually they'll be conditioned to be more independent.
4. Establishing goals
It's important to keep your mentee on track and ensure you've established a productive path. My approach is different with each of my mentees. One constant, though, is mentoring from a global perspective. In other words, I aim to teach them how to be a physician in and out of the office.
5. Giving feedback
In my experience, private, constructive, and goal-oriented feedback have been well received. It's important to build a level of trust so your mentee is receptive to the conversation. It's important to remember your own shortcomings when giving advice or feedback, too.