Dr. Dillenberg honored with Gala Tribute Award from OHA
Posted: April 9, 2018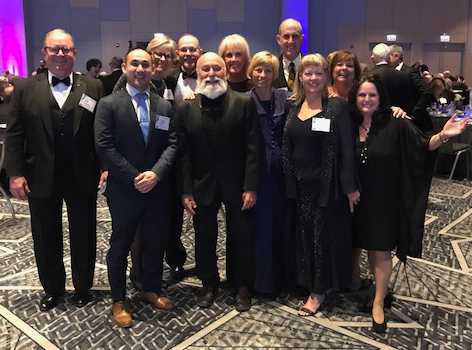 Jack Dillenberg, DDS, MPH, dean emeritus of A.T. Still University's Arizona School of Dentistry & Oral Health (ATSU-ASDOH), was recently honored with the Gala Tribute Award at the Oral Health America (OHA) 28th Annual Gala & Benefit on Feb. 21, 2018.
Each year, OHA honors an individual whose career significantly impacts oral health on a regional or national level; has been innovative, creative and pioneering; demonstrated positive, measurable change over a sustained period; and achieved success in overcoming barriers to oral health access, education and advocacy. The Gala Tribute Award was presented during the dinner at OHA's annual gala which is recognized as the premier charity event kicking off the Chicago Midwinter Meeting.
"It was quite an emotional night with over 700 attendees and many personally thanking me for being a positive influence in their lives and careers. It truly was overwhelming," said Dr. Dillenberg.
The Gala is one of OHA's largest fundraisers throughout the year, and helps OHA support the efforts that raise awareness about the importance of oral health.
Congratulations to Dr. Dillenberg on this well-deserved recognition!