Dr. Dillenberg appointed as advocacy ambassador to AADMD
Posted: March 13, 2017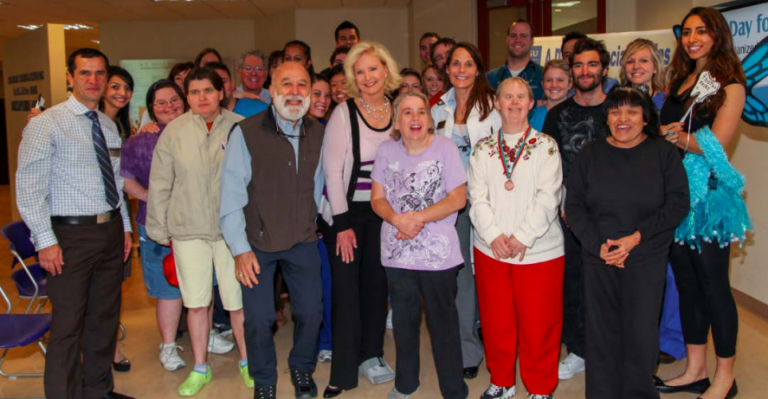 Jack Dillenberg, DDS, MPH, dean of A.T. Still University's Arizona School of Dentistry & Oral Health (ATSU-ASDOH), has been invited to serve as advocacy ambassador to the American Academy of Developmental Medicine and Dentistry (AADMD). AADMD is a forum for physicians and dentists engaged in improving healthcare for individuals with neurodevelopmental disorders and intellectual disabilities.
Throughout his career, Dr. Dillenberg has advocated for patients with special needs. As dean, he brought this passion to ATSU-ASDOH. Under his leadership, providing exceptional care for all patients has been adopted into the school's culture and curriculum. In fact, ATSU-ASDOH students are required to have clinical experience caring for individuals with disabilities.
Inspired by Dr. Dillenberg's example, ATSU-ASDOH students reached out to Special Olympics Arizona to see how the school could better serve children with disabilities. The result of the partnership was Day for Special Smiles, a student-led initiative in which children with special needs receive free dental care at the school's clinic. The event, now in its seventh year, provides students with experience serving youth with disabilities, while inspiring the local healthcare community to support patients with special needs.
As Dr. Dillenberg prepares for his retirement this summer, his role as advocacy ambassador will allow him to continue improving healthcare services for all patients. "I will work with people I admire and respect, while helping them to be more effective in the important work that they do," says Dr. Dillenberg. "I look forward to generating interest in AADMD and its efforts on behalf of special needs patients."
As advocacy ambassador, Dr. Dillenberg will combat many challenges facing patients with special needs, including public policy and low oral health literacy. He will continue to effect change in his retirement, as he has throughout his career.
Although Dr. Dillenberg will be sorely missed by his students and colleagues at ATSU-ASDOH, he is leaving the school in capable hands. "I'm really excited about the selection of Dr. Trombly as my successor," he says. "He shares my commitment to quality dental education through service and leadership."