Dr. Crawford on Black History Month: We are still in the realm of firsts
Posted: February 19, 2021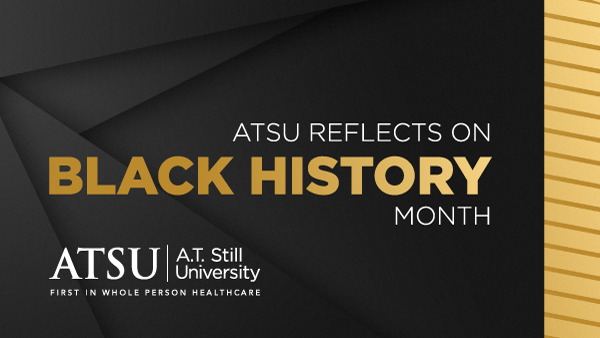 "ATSU Reflects on Black History Month" is a series of personal statements from A.T. Still University faculty, staff, and students. This installment features ATSU-School of Osteopathic Medicine in Arizona alumna Renée Crawford, DO, '20, of the Phoenix Children's Pediatric Residency Program Alliance.
Black History Month is a time to reflect on the contributions Black people have made to the advancement of American and, on a larger scale, global society, while being mindful of the fact there is so much more to be done to create a more just society where all people are treated equitably
Black history is a continuum of industriousness, innovation, progress, and resilience in the fight for progress. If it wasn't for the many Black Americans who were beaten or killed, our places of work, schools, religious centers, and public places of recreation such as swimming pools and parks would not be open to all Americans. It's not hard to find the first Black person to do "x, y, or z" because we are still in the realm of firsts. There has been a lot of progress made because of Black Americans, and this progress must be acknowledged and commemorated so that we have an understanding of where we came from in order to move forward.
What is something that inspires you about Black history?
1) Faith; "now faith is the substance of things hoped for and the evidence of things not seen," 2) hope that things will get better, and 3) resilience to keep going.
Black history is a history of triumph in the face of all forms of abuse to create a culture of community that is built on the foundations of faith, hope, love, and resilience. I am where I am today because of those principles.
How can we all take things we learn during Black History Month and bring about positive change?
Build on the principles of faith, hope, and resilience. Black History Month is a great time to think about what we are doing as individuals to promote the advancement of our respective communities. It is a great time to think about what we are doing to promote an equitable environment for Black people in our spheres of influence. There's a lot of anti-racism, diversity, equity, and inclusion hype, and it's easy to do the social media posts and go to events, but a great way to commemorate Black History Month is for us to ask ourselves, "Are you part of the solution or part of the problem?"
Why is it important to celebrate diversity?
Diversity creates better teams and achieves accomplishments at a greater rate than homogeneous environments. We should celebrate diversity because every person is of value to their institution or organization; their backgrounds and the circumstances that shaped their worldview should be highlighted.