Doctor of Occupational Therapy program students celebrated with White Coat event
Posted: November 30, 2021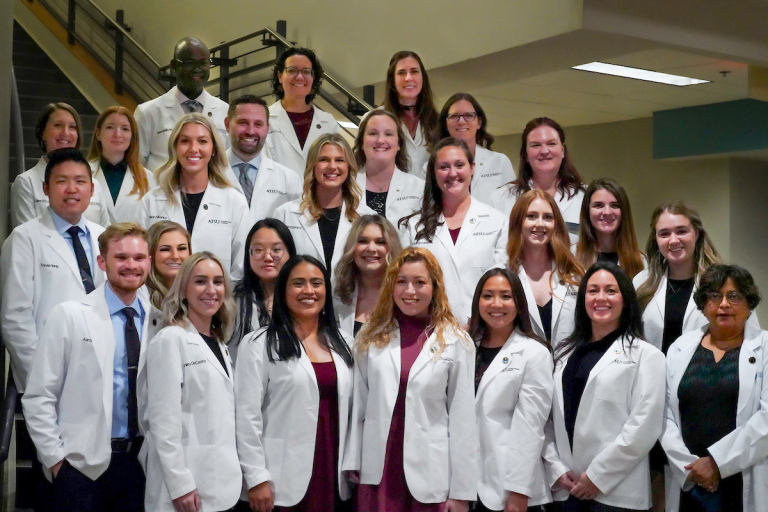 A.T. Still University's Arizona School of Health Sciences (ATSU-ASHS) recently celebrated the class of 2023 entry-level Doctor of Occupational Therapy program students with a White Coat ceremony. 
Jyothi Gupta, PhD, OTR/L, FAOTA, professor and chair, told the 16-member class to be prepared for elevated responsibilities that come along with their white coats.
"This is the time our students transition from foundational academic education into clinical practice and doctoral work; it is a time when professionalism becomes paramount as does the healthcare for the patients that will be in their hands," Dr. Gupta said. "My message to our doctoral class is as follows: Recognize that the commitment you have made to obtaining a doctoral degree and the hard work you put into your education will benefit you for years to come. I also want you all to recognize the contributions of all faculty to you becoming an occupational therapist."
Wendy Hildenbrand, PhD, OTR/L, FAOTA, president of the American Occupational Therapy Association and clinical assistant professor in the Occupational Therapy Education department at the University of Kansas Medical Center, delivered the keynote address, commenting challenges of the COVID-19 pandemic, uncertain times, and how to embrace those challenges.
"I encourage you to embrace the uncertainty as an opportunity for you, for your profession, for your community, and for the people we serve through occupational therapy," Dr. Hildenbrand said. "I support you in considering the possibilities as you think about how you might step into your new career."
Ann Lee Burch, PT, EdD, MS, MPH, dean and associate professor, remarked on occupational therapy's (OT) focus on whole person healthcare and its close ties to ATSU's mission.
"Occupational therapy, the profession you have all chosen to ultimately step into, is one which was committed to the concept of 'whole person healthcare' very early on. OTs have attended to the physical, psychological, emotional, social, and cultural issues. Perhaps more than most health professions, OTs can be found in nearly every healthcare setting," Dr. Burch said.