Doctor of Health Science student selected for U.S. government position
Posted: November 25, 2013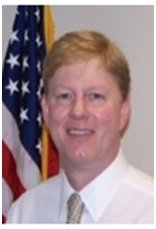 A Doctor of Health Science student is heading for a major federal position in Washington, D.C., following his graduation in March 2014. Stewart Smith, DHSc '14, has been selected as chief of staff, Department of Homeland Security, Immigration and Customs Enforcement, Health Service Corps (IHSC).
IHSC staff comprises more than 900 U.S. Public Health Service commissioned officers, federal civil servants and contract support staff. IHSC provides direct care to approximately 15,000 detainees treated at 21 Health Maintenance Organization (HMO)-designated medical facilities throughout the nation. In addition, IHSC oversees medical care provided to an additional 17,000 detainees housed at non-IHSC-staffed detention centers across the country.
In his new position, Smith will confer with the assistant director, deputy assistant directors, branch chiefs, inter-agency representatives, IHSC leadership and with key staff regarding problem areas and projected major changes within healthcare operations. Other responsibilities include:
Managing budget and finances for Washington headquarters and 21 federal medical clinics.
Monitoring and evaluating IHSC programs, plans, products, analytical efforts and operations to assure that plans are followed or modified to meet objectives, goals and strategic direction.
Managing operations within the day-to-day conduct of the IHSC staff programs and mission elements.
"Stewart has a long and respected history of working in emergency preparedness and response and is well-equipped to take on this exciting and prominent position with the government in homeland security," said Helen Ewing, DHSc, RN, director, ATSU Interdisciplinary Health Sciences – Doctor of Health Sciences. "We are proud of Stewart's accomplishments and know he is going to be a huge asset to the Department of Homeland Security, Immigration and Customs Enforcement, Health Service Corps."