Do what you love
Posted: October 29, 2018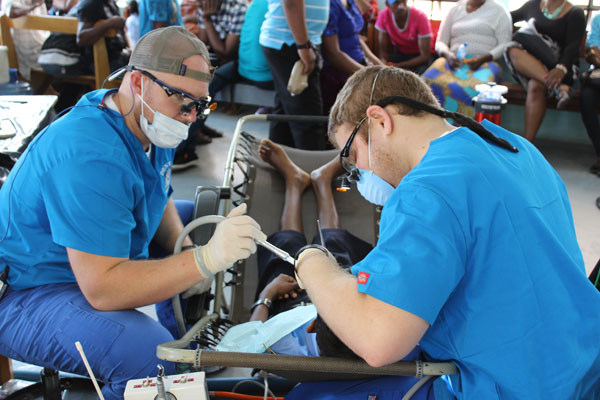 Dr. Love (left) helps patients during a humanitarian mission trip.
U.S. Air Force Capt. Mike Love, DMD, PHC, '18, always knew he had to excel at something. Dr. Love's younger sister, who seemingly excelled at everything, pushed him to aim high. Motivated by a speech he heard in elementary school, Dr. Love became the high school rifle team commander and class valedictorian and subsequently, the first in his family to attend a major university.
Dr. Love attended Auburn University on an Air Force ROTC scholarship majoring in biomedical sciences and chemistry. Upon graduation in 2008, he received a commission in the Air Force and deployed overseas multiple times. Still, he knew he had more to do.
"I always knew I wanted to go into medicine," says Dr. Love. "I always wanted to be like Patch Adams, be a humanitarian and help others."
He sought a path to healthcare through the Air Force. He greatly valued the impact of the Air Force's humanitarian efforts but still wasn't sure what direction to take. A canceled dentist appointment provided his inspiration. Frustrated by the canceled appointment, he asked his dentist for an explanation and was told the cancellation was due to a humanitarian mission in Haiti.
"I had no idea dentists participated in humanitarian missions," he says.
Encouraged, Dr. Love began shadowing dentists and learning more about dentistry. He was invited to attend Dental Access Day in Greenville, South Carolina, and was amazed to see so many people, from all walks of life, attend to receive free dental care.
"It was amazing to see people's reactions after you get them out of pain and give them confidence in their smile," Dr. Love says. "I was just helping, and people were crying and hugging me. They were just so grateful."
Dr. Love called his family and told them dentistry was what he was meant to do. He had finally found his "something."
After attending an interview day, he found his home at ATSU-MOSDOH, which aligned with his belief system and service orientation. Just as he knew dentistry was what he was meant to do, he knew ATSU-MOSDOH was meant to be his dental school.
While attending ATSU-MOSDOH, he was involved in the grassroots formation of the Dentures for Veterans project and participated in mission trips to Guyana and Jamaica where he accompanied ATSU-MOSDOH Dean Dwight McLeod, DDS, MS.
Dr. Love is now serving his country as an active duty officer and dentist in the Air Force. Currently stationed at Eglin Air Force Base, he is attending a one-year Advanced Education in General Dentistry residency program. He continues to help others and be the humanitarian he always dreamed of being.
"I'm doing what I love," he says. "I'm doing what I was trained to do."